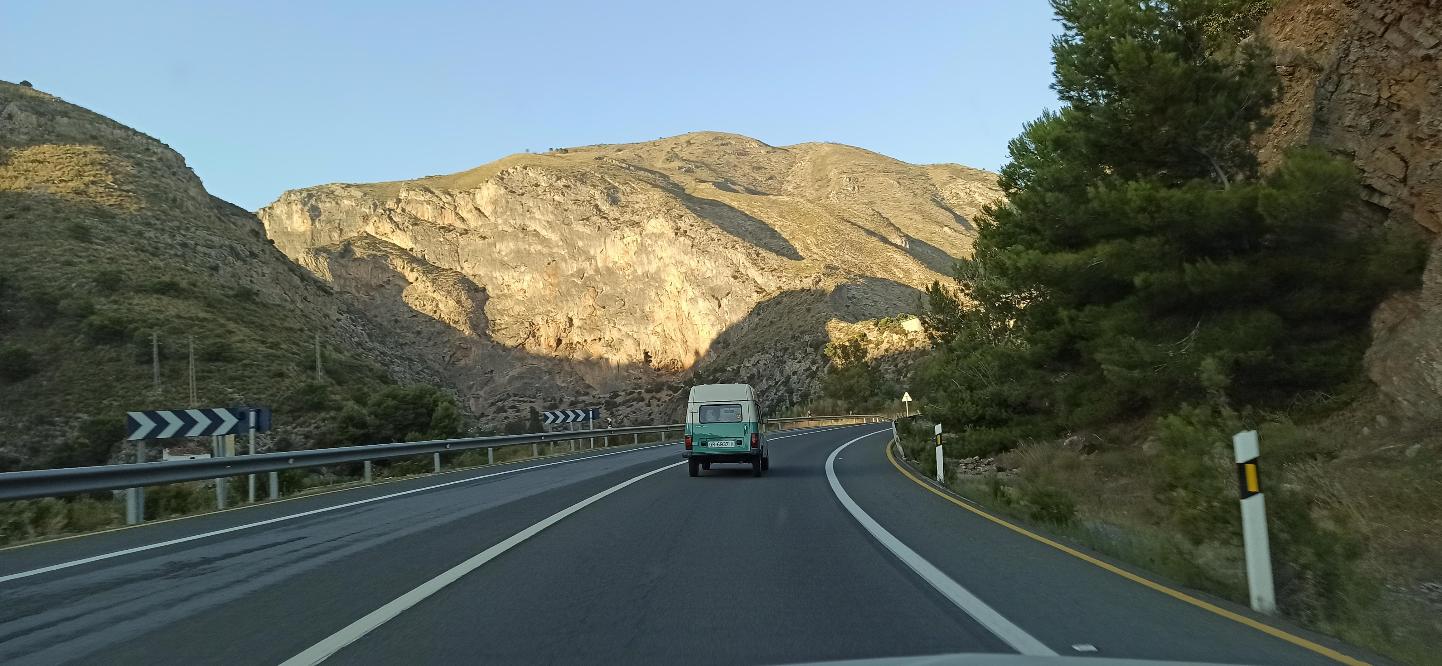 To follow us building a new life under the Andalusian sun, please subscribe to my future blogposts in English, connect on Facebook or follow us on Instagram:
Pinos del Valle 30th of July 2021, Reijer Staats
I posted a picture of my '81 Renault 4, parked on a dirt road between Salobreña and Almuñecar, in a Spanish Facebook group for Renault classics. Somebody commented: "Salobreña, monte sin leña, mar sin pescado, niños maleducados, curas pocos y locos." It's an old-fashioned rhyme that was spread word of mouth in the mid-twentieth century according to my neighbour Teresa. The rhyme fascinates me and is making me curious. Salobreña, then, was a poor village without any facilities. It had about seven thousand inhabitants and consisted only of the rock topped by the Moorish castle and the whitewashed houses below. Furthermore, it was surrounded by vast fields of sugar cane that danced to the sea breeze. Between the edges of the fields and the foot of the mountains were standing a couple of (rum) factories. It's a beautiful image. Poor agricultural workers from the mountains and hills of the nearby Alpujarras and the Lecrín Valley, came to work on the plantations around Salobreña. They found shelter in the animal stables that were spread across the village. Every year outside the dry southern Mediterranean summer, roughly between October and May, the fields with sugar cane were set on fire before they were harvested, in order to burn the leaves and to leave only the sugary stem. Salobreña's rock was regularly wrapped in toxic smoke and the clothes and faces of the workers turned as black as coal.

Salobreña, 1945 - 1950, oil on canvas by Moses Wells Sawyer (January 31, 1863 – March 21, 1960). Sawyer was an American painter, illustrator, and photographer who lived in New York until retiring to Spain in ill health and continuing to paint in Europe. The painting is in the collection of the Reina Sofia National Art Center in Madrid. Source Museo del Prado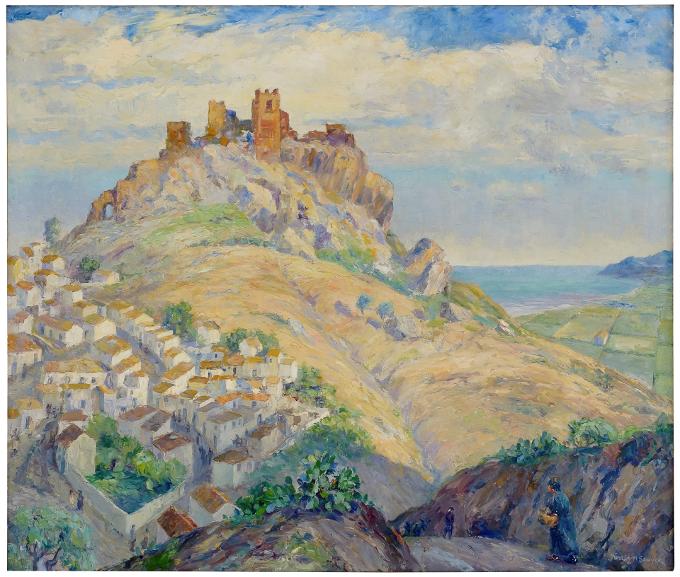 Back in Pinos del Valle, I am starting a conversation with a neighbouring couple. When I tell them that I'm working on the memoirs of our neighbour from Salobreña, they ask about my background as a writer. My somewhat hesitating response doesn't quite match the enthusiasm that I am experiencing while writing. It's a sign that I may need to take myself more seriously.
Teresa and I are now finding ourselves in a creative process. I do not only listen to her, but I am also fully aware of my own thoughts and feelings. With my full attention to Teresa's life history, I am noticing her behavioural patterns too. Patterns that have been effective in the past, are occasionally obstructing us in getting the full story on paper in the here and now. Everything in our conversations revolves around our interaction. We are working with that what comes to Teresa´s foreground as a starting point, without having predetermined structures and set goals. I am sometimes asking myself "How did we end up here?", when Teresa tells about a less pleasant episode in her life briefly, and, two sentences later, suddenly speaks at length about the most interesting people, love, travel, art and culture or politics. "What happened just now?", I ask her in those cases. "What do you mean?" she then replies. Teresa and I find out, that she had always closed difficult past periods by literally putting an end to them and by not thinking of those times anymore. And so the memories have faded. I, on the other hand, have learned not to just go a long with avoiding emotions and unfinished business. Avoidance is actually triggering my curiosity and by mentioning this, the "forgotten" episodes get a chance to become part of Teresa's memoirs too.
While writing, I am personally experiencing Teresa's troubled heart during her childhood. Despite her statement upfront, that she would not be able to tell me about childhood times in much detail, the many fragments of the first half of the 1950s have passed me by as if they were lively movie scenes. Our relationship develops over our meetings and conversations and our interaction and my personal perception become as much a part of the memoirs as Teresa's own life story. I am really enjoying this proces!
One of Teresa's childhood memories comes to her foreground. It's her uncle Antonio, her father's half-brother from Pinos del Valle, who is entering the scene. Antonio knocks on her parents' house for a meal and an overnight stay, after having descended the track along, and through, the rivers Río Izbor and the Guadalfeo for 40 kilometres roughly. Antonio's mule was packed with wine and olive oil to sell on the coastal villages, as many of his villagers did in those days, and this multi-day hike all the way from the fertile Lecrín Valley to Salobreña had exhausted both him and the mule. Life was tough and so far, this had only been the journey downhill for Antonio. The main meal served in Teresa´s household was poor man´s potatoes with a few slices of pepper and onion only, and sugar cane was eaten for dessert. The family lived without luxury, but had everything it needed and the children wanted for nothing. Nowadays Johan and I drive from the Lecrín Valley to the coast to replenish our wine and olive oil supply. It takes us a mere 20 minutes on the highway. When we feel the need to slow down, we are taking the 40 minute tourist route to go to the coast, with our ´81 Renault 4 as a means of transport. We are driving along those same rivers and through a spectacular canyon, and when passing the plantations, we can see the subtropical fruit that has taken the place of the vast fields of sugar cane of Antonio's times.

Driving the Cuatro Latas through the orchards with cherimoya and avocado, towards the canyon Tajo los Vados, carved out by the Guadalfeo river.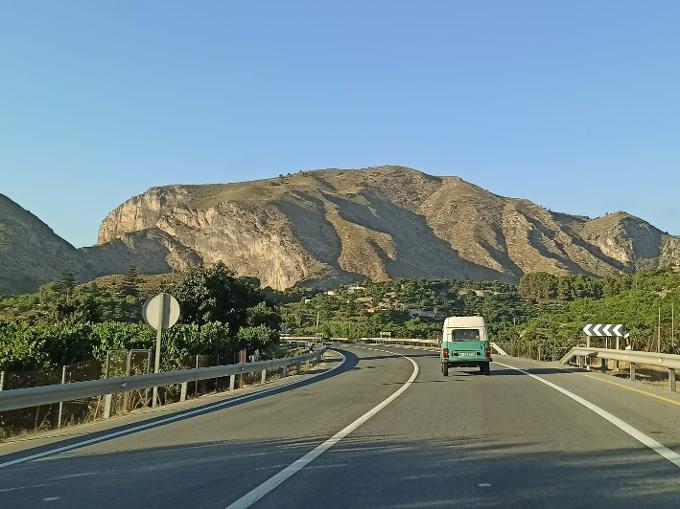 Meanwhile in Pinos del Valle, we are having the front and side walls of our Guesthouse Lolapaluza whitewashed by painter Eduardo, who is one of the friendly workers of our house contractor Pablo. The job takes him over two days to finish. Our fellow villagers are noticing Eduardo's work and they seem to like it mucho! While I am leaving the house through the front door, two elderly ladies are strolling down our street and are passing our casa. I watch them interrupting their daily walk almost synchronously. They turn around and start observing our white facade thoroughly. Simultaneously they raise their forearms, as if they were each other's mirror image. The ends of the five fingers on their hands come together to form two horns with the tips up. Both hands are briefly but firmly moved back and forth a few times. I am not that familiar with these kind of Italian hand gestures and for me this sign language could really mean anything. However, the expression of approval on the señoras' suntanned faces, and their words "muy bonito!", make it all clear to me.
After locking the front door, I walk into the direction of Salvador. Our sociable neighbour, who is a persistent collector of scrap metal, is pacing our street as always. I am handing over the key, which we borrowed in order for Eduardo to have access to a small patio and to be able to reach the side wall with his brush. It strikes me that Salvador has exchanged his eternal blue overalls for summer shorts. He has also put aside his plastic sweaty baseball cap for a straw hat for the two hot summer months that have arrive. His headgear is reminds me of that of a scarecrow in cartoons. Salvador makes an identical expressive Italian hand gesture as the señoras just did, when speaking out to be very impressed by the good craftsmanship of Eduardo. According to Salvador, Eduardo has caught the eye in barrio bajo and has acquired two more painting jobs in our pueblo.
I am now noticing a small dog at Salvador's foot, which I have not seen before in his vicinity. "Hombre!?", I speak out, "Tienes un perro nuevo?" Salvador starts to laugh and it quickly becomes clear to me that his dog is his scruffy long-haired companion that has had a drastic shave. Salvador takes off his straw hat and raises his hand towards his own haircut, which is also cut short. He then points to my hairdo, asking if I might want a haircut too. "No, no, no!", I yell, pulling back my chin and wrinkling my forehead. Salvador, laughing even harder, puts his arm around my shoulder and pulls me into his sloppy version of the garage from Home Improvement's Tim Allen.
Salvador shows me the latest metal creations of his hand, including a fully automated hand pump with a reservoir and a long tube with a mouth. We saw him using this tool to disinfect the street with a chlorine mixture the other day. And, since I got too close, some of my clothes were sanitized at the same time. Then, Salvador switches on a gigantic caged screw fan that had been created by demolishing a stainless steel fan from an air conditioning. I am almost getting blown out of the garage when it is running at full power. Finally, he shows me an enormous work lamp, which has been attached to two walls and to the ceiling of the garage with three extension springs. The lamp can be positioned throughout the entire garage. This awesome neighbour of ours, his spatial awareness and craftmanship are absolutely amazing!
Johan finishes working on the bottom part of our facade on a cool morning, by overpainting the old baby blue colour with one of the 50 shades of grey. Villager and handyman Chappy, who has been introduced in my previous blog post, unexpectedly appears while we are having full house with guests. After a few hours of working on strengthening the metal construction of our roof terrace, he knocks on the back door, looks at me with thirsty eyes and speaks out the word "cerveza". Soon after, Johan paints the metal posts added by Chappy in the colour black. We are now able to cover the construction with sugar cane again and we can enjoy the cool mountain breeze and the beautiful views over the Alpujarras from a shady roof terrace. After placing some pots and plants in the window frames, Guesthouse Lolapaluza is now looking fabulicous!
Working early in the morning to avoid the heat.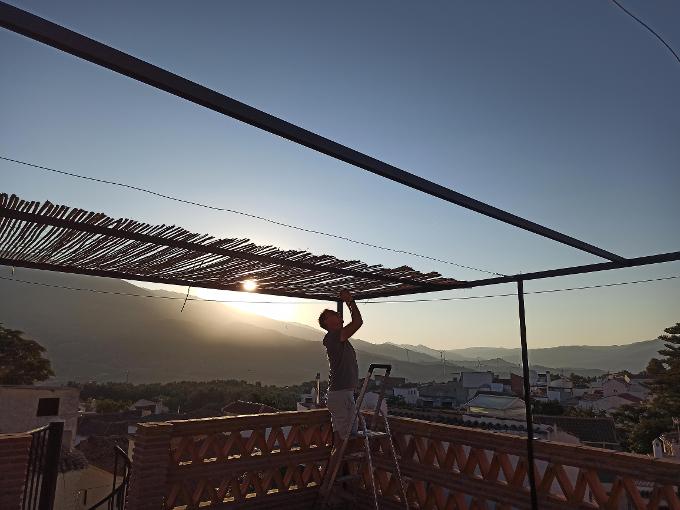 The white facade of Guesthouse Lolapaluza.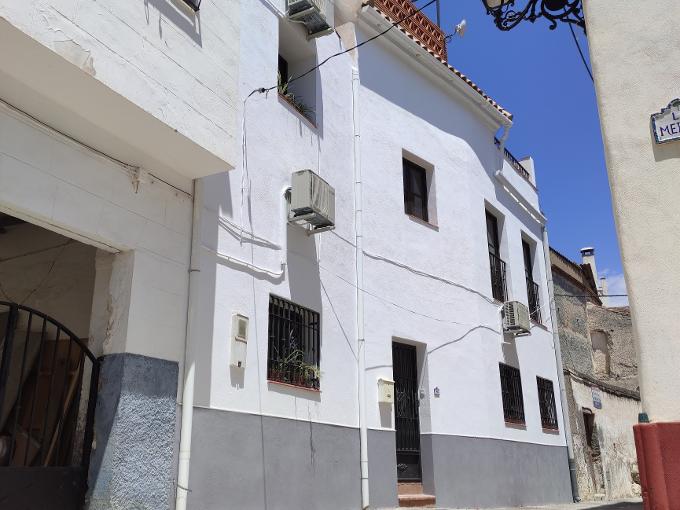 As I am writing this post, I am on the plane back from a hasty visit to the Netherlands, where we scattered the ashes of my sister Meris on the open sea off the coast of the city of The Hague and gave her a final greeting with flowers. Dropping a beautiful wild blue flower over the ship's railing, I became aware of the sad faces around me. This scene touched me unexpectedly, and I realized that this moment was some kind of closure. The loss of my sister, who died of cancer, will be forever. Meris has been on my mind a lot lately: during the tough climb with my mum to the Ermita Cristo del Zapato, located high above Pinos del Valle, where we lit a candle for her. And also during the visits with my brother-in-law Martin to some places that I strongly associate with my sister because she would have had loved to visit those: the witchy village of Soportújar, the Buddhist monastery of O Sel Ling and the Canyon of the Moon, which I wrote about in my previous blog post Dutchies in Spain.
With my mom of 76 at the Ermita after the steep climb. What a performance!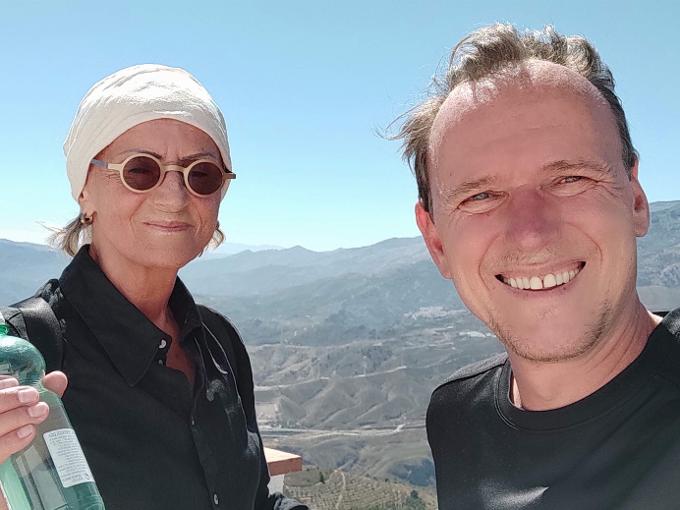 In the city of The Hague, where the ship is leaving for a last farewell on July 24, 2021.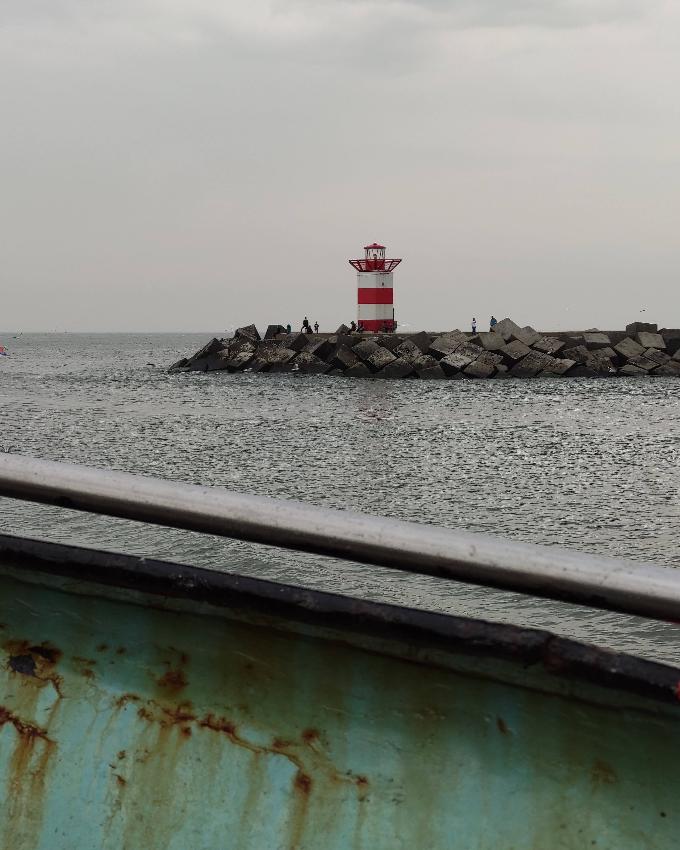 The village of Soportújar, located in the Alpujarras at about 1,000 meters altitude is only a 45-minute drive from us. After the Moors were expelled in the sixteenth century it was repopulated: mainly with people from the Galician northwest of Spain. Legend has it that the new inhabitants with their Celtic roots brought pagan festivals, superstitions and witchcraft to the Alpujarras. Soportújar today, is an absurdist scene where you can learn everything about witchcraft and black magic. Martin and I thought it would be great fun to spend an hour here to look for Morticia Addams of The Addams Family.
When entering the village, we immediately notice the "Cave of the Witch's Eye", located slightly above the road. It is said that it has gotten its name because it's shaped like an eye socket. In reality, however, the cave is the eye of an important and dangerous witch, who is able to see everything. The place was feared by the village children and their parents warned them not to play outside the village's boundaries. We better drive on, with our search for a parking space as an excuse. When we approach the gigantic head of Baba Yaga things are getting exciting. We have to pass the statue to enter the village. The story goes that this Slavic legend grew a year older every time she was asked a question, and she received many thanks to her fame in Eastern Europe. Logically, she became quite frustrated and therefore moved to the Alpujarras.
We continue to drive towards the upper western boundary of the village and park the car at the Coven. I was told that witches still regularly gather on this circular site and that every now and then an initiation ritual of inexperienced witches is also taking place here. Now we have arrived for our initiation ceremony, we can only see some relics that have been left behind, including a skull, a magic book and a black cat. There is also an abandoned cave house of a suspicious wizard, who has installed a very modern surveillance camera, but he himself is nowhere to be seen. We briefly enjoy the fantastic views over the Guadalfeo Valley towards Salobreña and the Mediterranean before descending the steep road and starting our witch tour through the labyrinth of streets in Soportújar.
If you were wondering whether the house of Hansel and Gretel really exists. Don't look any further! The house is right here! We pass the colourful little cottage without eating of it, but it does increase our desire for food. And as we are suddenly standing in front of Baba Yaga´s home, it also becomes clear to me, how, in her old age, Baba Yaga was able to make the long journey from Eastern Europe to the southern flanks of the Sierra Nevada: the house with its enormous chicken legs can travel long distances!
It's time for a photoshoot. As I pose in front of one of the rustic walls that characterize this village, a huge spider starts attacking me. I manage to run away, but when looking around, I notice that I have lost Martin in my escape. Fortunately, he quickly apparates at the gate of an inn and with two melting ice cream in his hands. Walking through the village centre, we pass two witches stirring in their pot on a fire in front of a fountain and against the background of a beautiful mountain view. Licking our ice creams, we decide to turn right into a steep street. We descend further and the street takes us past the dragon fountain, where the water comes out of the animal's penis. Reading the sign above the fountain, I learn that drinking its water will stimulate fertility. Fortunately, we already have our refreshing ice cream
At the bottom of the village to the right, we dive into Calle Zanjilla. With its 48 centimetres only, this happens to be the narrowest and most magical little street in Spain. Soportújar is characterized by the typical architecture, for which the Alpujarras is known: flat slate roofs, Moorish chimneys and narrow streets with water gutters. The "tinao" is an architectural phenomenon that is typical for this region also. Tinaos are passages with wooden beams, which have arisen after private houses were built over the public road. In one of those in Soportújar, a large snake finds its way through the wall.
Martin and I are getting tired of all the magical discoveries. As we are walking back to the car we almost stumbe over a pile of abandoned cauldrons and over a quidditch broom. You might like to visit the annual medieval witch's market, which will take place ech year in August. Spending Halloween on October 31 in the spooky village should also be an enchanting experience also. For now however, we'll say goodbye to Soportújar and the witchcraft.
The view from the Coven in Soportújar and the house of Hansel and Gretel.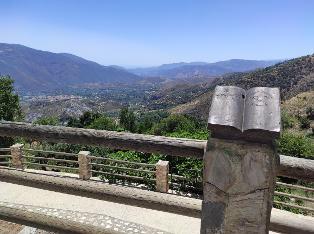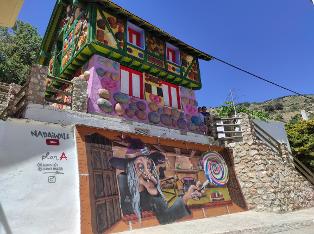 Baba Yaga's house on chicken legs and the big creepy spider.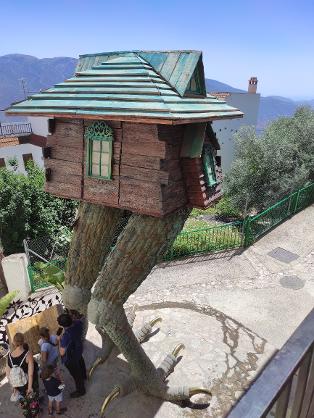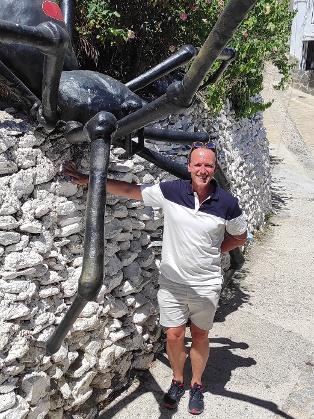 The dragon fountain with its fertile water and the snake in the tinao Alpujarreño.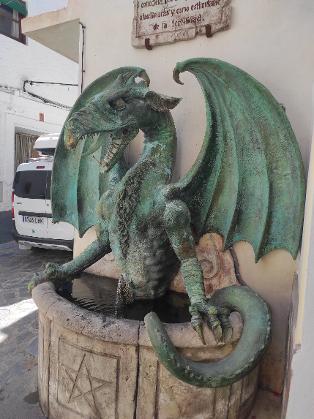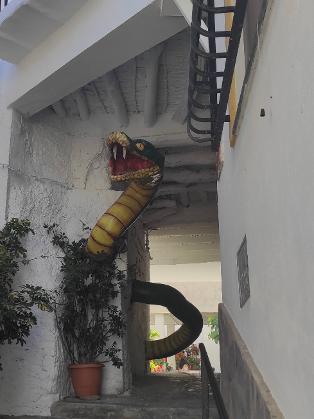 On the territory of Soportújar as well, but far from the village centre and at a cooler 1,600 meters altitude, you will find the Buddhist centre of O Sel Ling, which means "place of bright light". The centre has been inaugurated by the Dalai Lama. Since Martin and I are in the area anyway, we decide to visit it. We chose Martin's 4x4 to explore the region, which is a good thing, as the half hour drive to the monastery turns out to be a bumpy and steep climb over a narrow, rocky and winding dirt road. We are a bit afraid of oncoming traffic, at least I am, but the journey to O Sel Ling, the walking around its grounds with its Tibetan flags and holy statues and especially the explicit request to spend the visit in silence, completely calms me down. It feels as if we are having a little expedition to Asia.
The Buddha statue in Soportújar showing the way to O Sel Ling and the Stuba on the monastery grounds.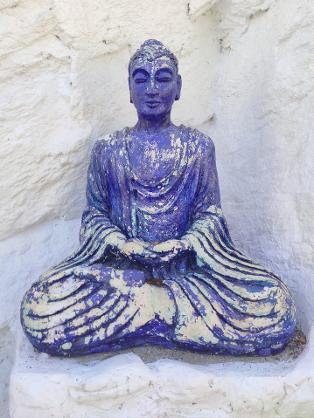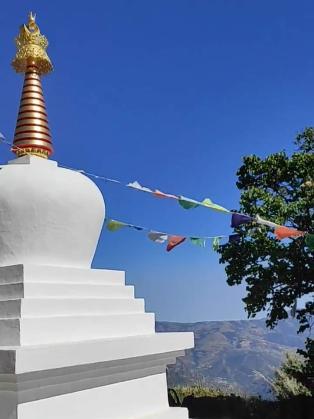 Serene tranquillity gives way to chaos. An important meeting of our community in Salobreña is taking place on a Friday evening. There was some pressure and urgency to quickly organize this meeting with the home owners of our urbanization, since our Swedish neighbours Daniel and Ulrika have arrived in the country. Our flamboyant Madrilenian neighbour Azucena with her red curly hair has been la Presidenta for 8 years now. She had already announced that she was completely done with the discussions and irritations among the active residents. It even bothered her that much that, before, with her deep smoker's voice, she cried out to me: "Basta! And now you can become the president!!"
Preparing the meeting had been a bit confusing already. Its location should have been determined by la Presidenta. According to our neighbour Teresa, it would either take place at one of the residents' homes or in Hotel Salobreña, on neutral grounds. But, since Johan and I had not received any further information, we decide to drive to Villa Merise on time that evening. After arriving there, we would see how or where. After all, Hotel Salobreña would only be another 5 minutes by car from our community. On our way in the car at 7.30 pm, about half an hour before the meeting would start, my phone rings. It's Azucena, la Presidenta. Her voice is rushed and her words are confusing me. Azucena actually asks me where the meeting is taking place: "You are the president, so you have to choose the location!" Without answering, I immediately ask her the counter-question. This leads to the joint decision to hold the meeting at Hotel Salobreña. Azucena's proposal to drive there together is kindly declined, since Johan and I would rather not be dependent on others when we would feel the urge to leave the meeting again. Having arrived at the urbanization, we quickly water our plants and while doing so we find Teresa passing our house, clearly looking for us. She insists to drive to the hotel together. On our way to the meeting, we suddenly see Azucena's car driving the opposite direction, back to the urbanization. She must have forgotten the prints of the agenda items to be discussed.
Our little event in Hotel Salobreña takes place while the number of covid-19 infections among young people in some European countries has been going through the roof and is causing a great deal of commotion. As I lean against the hotel's bar, to order a few glasses of vino tinto, a large group of at least a hundred youngsters pass by. The venue turns out to be hosting a basketball camp for teenagers and their supervisors this weekend. Fortunately, we are still able to find one empty table outside on the terrace, where we finally start our meeting. The seven of us end up bickering over a number of topics. Fortunately, given our presence and that of the Swedes, the friction is expressed in the English language.
Despite missing any vote, I am unanimously elected as "El Presidente". Azucena immediately hands over her documents printed and I sit bent over my red notebook eagerly writing along with everything that is said. The bickering is getting louder and the English language is increasingly exchanged for Spanish. While I'm starting to feel more and more uncomfortable, I'm also getting warmer. I look up from my notebook every now and then, searching for confirmation and support from Ulrika, whose calm appearance puts me at ease. With several pages full of notes, but with hardly having said anything myself, the meeting is being closed within the hour.
It's the Monday afternoon after the chaotic meeting and Johan and I have just arrived at Villa Merise to meet our Swedish neighbour Daniel. As we are walking towards the communal water depot, a steep path uphill at the top right of our urbanization we pass Azucena's house. Azucena happens to be in her front yard and we briefly review the topic "water depot" as discussed in the meeting.
Azucena asks me how I experienced the discussions and irritations in the meeting, while supporting her question with two hands making the Italian hand gesture already mentioned. The ends of the five fingers on both of her hands come together to form two horns. This time however, the tips are not pointing up, but they are pointed horizontally facing eachoter as if they were muppets. Producing funny bickering sounds, which remind me most of the iconic voice of Fran Drescher from the American comedy The Nanny, Azucena opens and closes the muppets by repeatedly moving the four fingers and thumb apart and together. How funny! Some people just need to be hugged.
Never a dull moment in the Valley of Happiness! Please stay tuned and contact us if you'd also like to visit the beautiful province of Granada, with its Costa Tropical, las Alpujarras, the Lecrín Valley and the Sierra Nevada.
Johan & Reijer