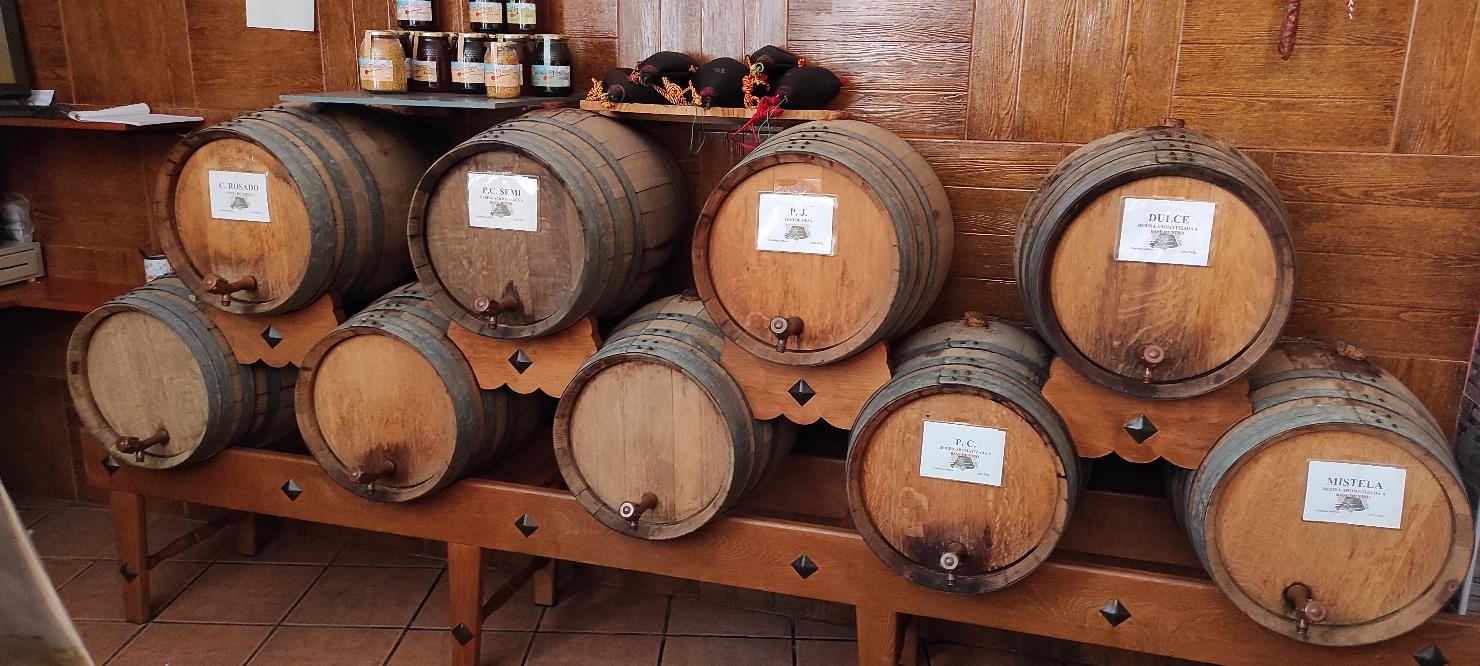 To follow us building a new life under the Andalusian sun, please subscribe to my future blogposts in English.
Pinos del Valle, 26th of June 2021, Reijer Staats
Dutch speakers: there are 24 million of us worldwide and Dutch is one of the 40 most spoken languages in the world. Most of us live in the Netherlands, Belgium and Suriname, but about 80,000 are registered in Spain. We have an opinion about almost everything and we like to express it frequently and strongly. Since we like to provide others with unsolicited advice, we quickly come across as rude and blunt to other cultures. Here in Spain we are all over the place, we are easily recognized and we sometimes try to avoid each other. For example in the local Mercadona: "Look, a Dutchy, hide!"
But most of the time we like to meet up: both in real life and online. For general information and advice, we have the Facebook Group Dutchies in Spain to turn to. I am consulting it this time, since my brother-in-law Martin is travelling to Andalusia by car, and as he will be in France for a few days for his daughter's wedding, his corona test will have expired when entering Spain.
Pomegranate flowering in the Lecrín Valley. Enjoying my views every day!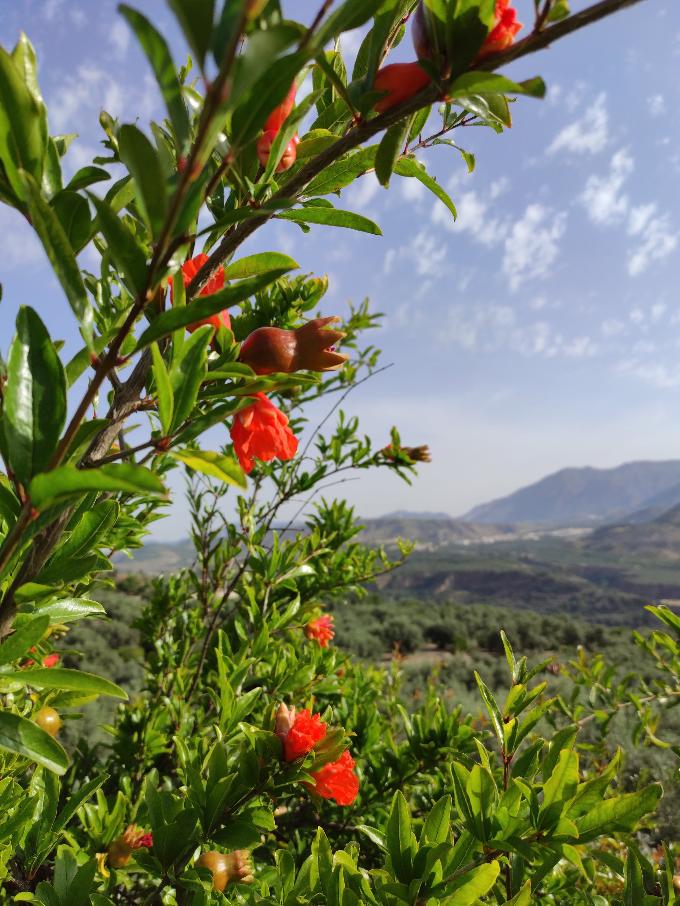 "Dear members," is how I start the question that seems pretty SMART to me. "Does anyone have experience with taking an antigen test in France before crossing the French-Spanish border? My specific question is whether travellers are welcome in a French pharmacy without making an appointment up forehand and if they will have their results within 15 minutes. I am asking because after a staying in France for a couple of days, the test taken in the Netherlands will have expired. I'd love to hear your experiences! Thanks in advance!"
Asking my question in this Dutchies Group turns out to be a true experience. I am receiving 77 responses. At about two-thirds of that number, someone asks me if my question has already been answered. "Not meant to be rude," I am responding, "but despite the 50 reactions so far, I still don't have an answer yet. It really has been quite an experience..." Within ten minutes, the first person to respond is saying: "We drove into Spain yesterday and we didn't see anyone." She then lists the countries they have passed in capital letters and repeats: "SEEN NO ONE!". Her response provokes 42 reactions, discussing the price of a test, the amount of the fine and the places where inspections are carried out.
One of the gentlemen on the forum: "How to not give a fuck…" Another dude adds to that, that brains are such a beautiful gift, that you would wish they were given to everyone. One of the members has a point that gets quite a few thumbs up: "Why not just answering the bloody question? I am reading all these irrelevant comments: "We were not checked! Blah, blah, blah…""
Finally, someone asks how my French is coming along and advises me to call a French pharmacist to get the correct answer immediately. Anyway, I am sharing my findings with Martin and I am sending him the list of French pharmacies near him. Immediately after, Martin inquires at the owner of his Airbnb and she promptly calls several pharmacies. He has his appointment, free of charge, in the same morning at 10:00 and is outside with the test result within 15 minutes. Twelve hours later, Martin arrives at Villa Merise on Andalusia's coast. It's that simple.
When leaving Pinos del Valle, for a touristic tour to the Costa Tropical with amigo Perry in our Cuatro Latas (click to read my blog: A tour through the Valley in Cuatro Latas), another unpleasant Dutchy encounter follows. While driving on the roundabout, a hasty and inattentive Facebook friend, whom I had never met in real life, bang on puts her bumper in the entire right flank of our newly restored '81 Renault 4 classic. Smash, bang, boom! Nice to meet you.
My Cuatro Latas, damaged.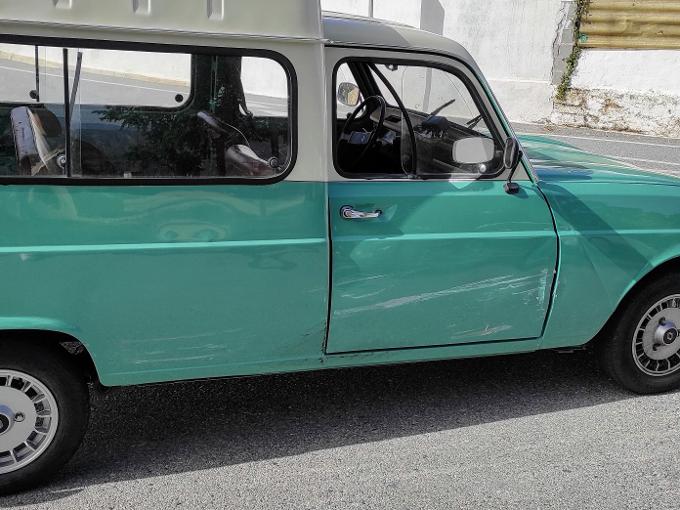 In the past few weeks I've not been feeling 100% every now and then, so this setback can be added to that also. I had my last working day on April 30th and enjoyed some well-deserved time to relax and loosen up. With an eager Dutch mentality, I am now in search again for a meaningful day to day life. Some days I am more satisfied with myself than others.
Theodore Roosevelt once said that Happiness lies in the joy of achievement and the thrill of creative effort. Some attention, persistence and discipline are slowly helping me to feel better again. In the month of June I immerse myself in the creative process and start with writing the memoirs of my neighbour Teresa in Salobreña. Three fruitful meetings and days of writing and translating result in the first 5,500 words and the first 17 pages of Chapter 1 in Dutch and English. The manuscript of this Moroccan-Andalusian fairy tale in the making is now with Teresa for a review. I've already been told that some phrases will be censored, so I'm sure that Teresa is making corrections with a firm hand and a red pen as we speak.
It is half past twelve in the morning. Teresa tells me to sit down and she asks if I would like to have a Bloody Mary. I'm quite surprised by her offer at this early hour and can't quite get my words, but Teresa tells me she is drinking one every day at this hour. Just like she has a glass of wine at lunch and a G&T after siesta. I kindly accept the spicy alcoholic tomato juice offered and Teresa disappears into the kitchen where it's being prepared. I quickly run to Villa Merise to pick a lemon from the front yard after hearing Teresa murmur from the kitchen that she's run out of this essential acidic ingredient of the Bloody Mary. We start the process with what comes to the foreground for Teresa. Her life story can develop from there: chapter by chapter, theme by theme and chronologically or in non-chronological order.
Teresa takes me to a period in Morocco in the mid-seventies. From her villa, situated on the green wooded mountain to the west of the buzzing city of Tangier on the Strait of Gibraltar, she overlooks the king's palace, the Atlantic Ocean on the left and the Mediterranean on the right. Behind, the Iberian Peninsula can almost be touched.
Africa can almost be touched from Andalusia. I took this photo in Tarifa, exactly 10 years ago today.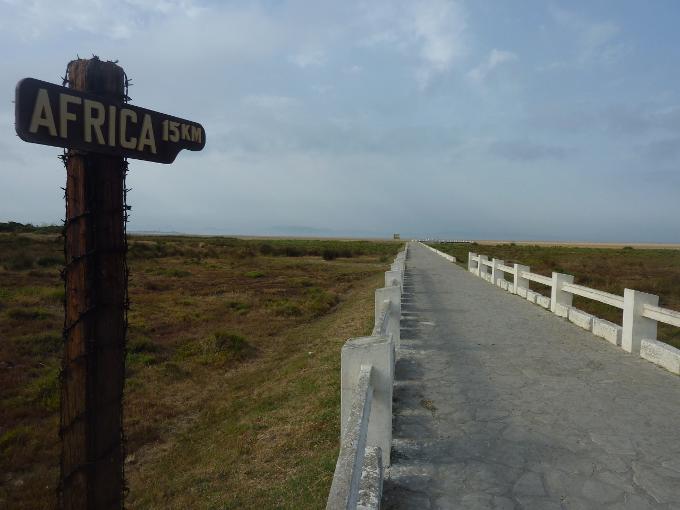 Teresa's unfulfilling and jobless life in those days, is spent outdoors as much as possible on the green wooded mountain. She walks her dogs down on the winding paths to the beaches of the Atlantic Ocean. On her daily hikes, she passes the Palais Royal and the white Moroccan villa of the American gay couple "Jameugene", an inseparable combination of the names James and Eugene.
These two men, whom Teresa comes into contact with through her first husband, a doctor, after one of them went to the practice for his malaise, become her best friends. Gradually, the doctor withdraws from contact with the gentlemen. Nonetheless, they become a regular part of Teresa's daily routine. It is a spectacular Arab life with four gorgeous Moroccan guys dressed in white as servants, who are always ready to keep the extinguishing weed or marijuana in the hash pipes of their masters burning. "Jameugene" lives to smoke weed in a tale of One Thousand and One Nights in their white Moroccan Villa. And although she would never touch a joint, Teresa's habit is born to take a Bloody Mary every day at half past eleven in the morning.

The chicas from the city of Rotterdam drinking vino blanco.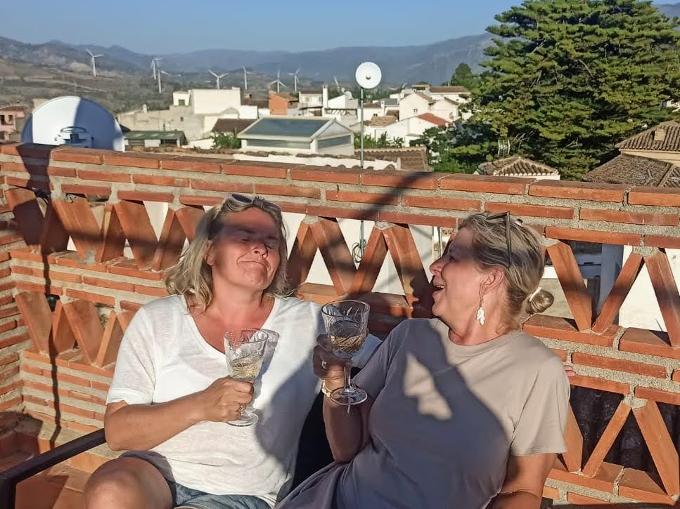 In the meantime, the summer brings gorgeous weather uninterruptedly to Pinos del Valle, and we are having full house in Guesthouse Lolapaluza with my mum and the Rotterdam chicas Marja and Alexandra staying as guests. My friend Marja is house-hunting in our Valley and since she's not from Rotterdam originally, she told me she is not particularly happy being labelled a Rotterdam chica. For those who are interested: Rotterdammers and Amsterdammers have no-nonsense and direct characters and are both proud of their mentality. The cities rival each other, just as Melbourne vs. Sydney, Madrid vs. Barcelona and Paris vs. Lyon. Anyway, an intensive day of house-hunting usually ends on our roof terrace, where the properties visited are thoroughly evaluated with a glass of white in the hand.
My mother and I are taking a stroll through the olive and orange groves. As we are walking back into the Barrio Bajo of Pinos del Valle we pass the Church of the Immaculate Conception. During the revolt in 1568 by the Moors, this building in the lower village was looted and set on fire and was then rebuilt. Opposite the church, Chappie's double garage doors are opened wide. We can see him sitting on a rusty oil drum wearing his blue overalls against the background of the huge, overstuffed and poorly lit garage. He stares at his phone but is looking up as we pass. His dirty face as of a working miner makes the whites of his eyes stand out. "Aquí están tus cosas", Chappie says, pointing with his fingers to the left just behind the garage door. He is talking about the parts for reinforcing the metal construction on the roof terrace of Guesthouse Lolapaluza. We would normally have had it covered with a canopy of reed to create shade in summer. However, due to severe winds in January, the cover was blown off and the structure became unstable.
The roof terrace of Guesthouse Lolapaluza with the amazing view into the Alpujarras.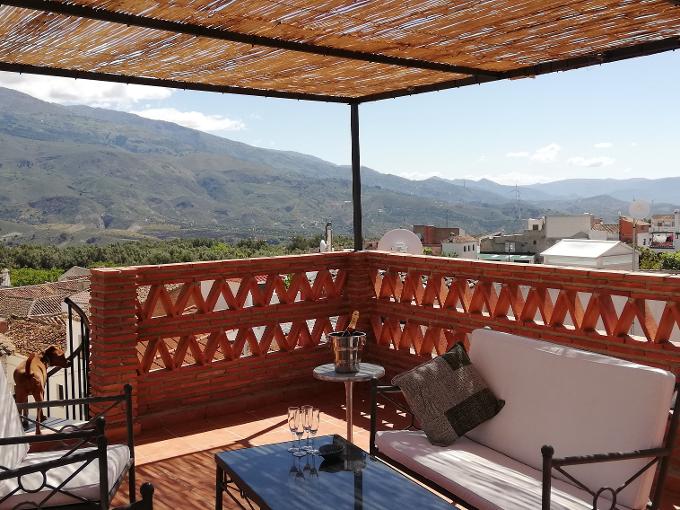 We have known Chappie already since 2015 when we met in Bar Venecia. There, he regularly meets his fellow villagers and sits at the same table every time. Chappie is a strong masculine guy with the looks of having a rough edge, but with a calm, decent and extremely friendly personality on the contrary. Sometimes he sits up, curling his lips into a neat and prudent smile and with a naughty twinkle in his small dark eyes. Because of his distinctive quirkiness, Johan has nicknamed him "Chappie". Chappie comes into the picture with the Belgians as a skilled metal worker and he does some work for them in their new casa. We decide to invite him over for dinner so that he is able to inspect the metal construction on our roof terrace at the same time. The doorbell rings and I open the front door. Chappie is standing in the middle of the street, looking up to the house and with two bottles of red wine in his hands. I can see that the corks were only pressed halfway into the bottlenecks. Chappie tells me not to look at the wine labels, since the bottles contain a blend from his own vineyard with Tempranillo, Merlot and Shiraz as ingredients. Maybe Chappie should become my guru to teach me the profession of campesino, a local farmer? Soon, Johan and I find out Chappie's real name, which is exactly the same as our neighbour's, who compared to Chappie is a super extroverted person. Johan leads Chappie up the spiral staircase to the roof terrace to measure things up and I stroll behind the two. In the meantime, our neighbour watches us from his driveway, he whistles and he shouts unintelligibly in Spanish into our direction. His slightly more introverted namesake looks back at him and makes a low, guttural, aggressive sound: "grrrrrrrrrrr."
That said, Chappie sits up at the moment my mum and I are passing by. He points to the metal parts on the left in the garage and I start glowing. Chappie, with a tired look, states that I now want to know for sure whén he is going to reinforce the construction. I nod and I begin to glow a little more. Chappie looks at me and says: "En Español dicen:…" In Spanish one would say "cuando". He then hums the well-known tune of Engelbert Humperdinck and sings the words: "Quando, quando, quando, quando…." Then he gets out of contact by bending over and starts staring at his phone again.
The day following the last supermoon of this year, when the moon appeared bigger and brighter than usual since it was so close to Earth, my brother-in-law Martin and I do an amazing hike through the moon gorge (Barranco de Luna). After the walk we are having a somewhat early birthday lunch at El Molino del Puente. The Rotterdam chicas succeed in the search for a casa in the valley and leave again for home.

"Pinos del Valle, June 25th 2021
Dear darlings,
Thank you for your hospitality. This is an amazingly beautiful place and I have enjoyed it so much! As the personal assistant to Marja & G.J., I was on tour house-hunting for a place under the sun and we SUCCEEDED in our search! We will see each other more often hopefully, if Marja & G.J. are inviting us over of course. Otherwise we are separated by 1,117 kilometres only, from the Lecrín Valley all the way to the French department of Tarn through the long-distance footpath GR7. You are very welcome always. Keep up with living your best life!
Big hug, Alexandra"
For choosing a birthday present, Johan asked Teresa to take us to the tiny Bodega La Mesa Redonda in Motril: a small shop in a back street just outside the centre. Behind the counter are 9 oak wine barrels with the names of Rosado, Dulce and Mistela, among others, and behind a large curtain are huge wine barrels made of metal. Customers are coming in and out to fill their jerry cans with the wines of the bodega. It seems to be extra busy since it's getting close to lunch time
Bodega La Mesa Redonda in Motril.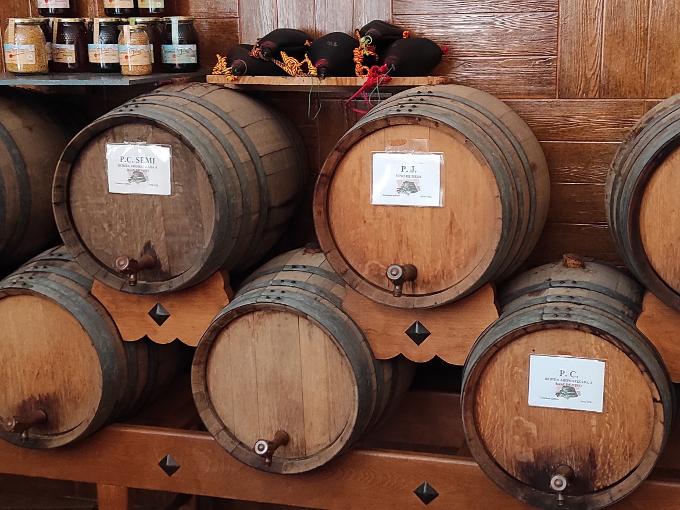 Now the manageress has put a catalogue on the counter, I am choosing an 8 litre wine barrel, to have engraved with the initials of Johan and mine and with our wedding date 16-09-2011, almost 10 years ago now. A short wine tasting followed by a long lingering from my side and a small discussion in the shop, results in following the expert's wine advice. Johan recommends Pedro Ximénez, a sweeter white from the vineyards around Jerez de la Frontera, to fill the barrel with. I'm already looking forward to the cooler winter evenings in front of the fireplace with a glass of wine from our own barrel in the hand. But first of all, we long for going back to normal and we would like to have a long Spanish summer with awesome guests please.
Hasta luego from the Valley of Happiness.
Johan & Reijer