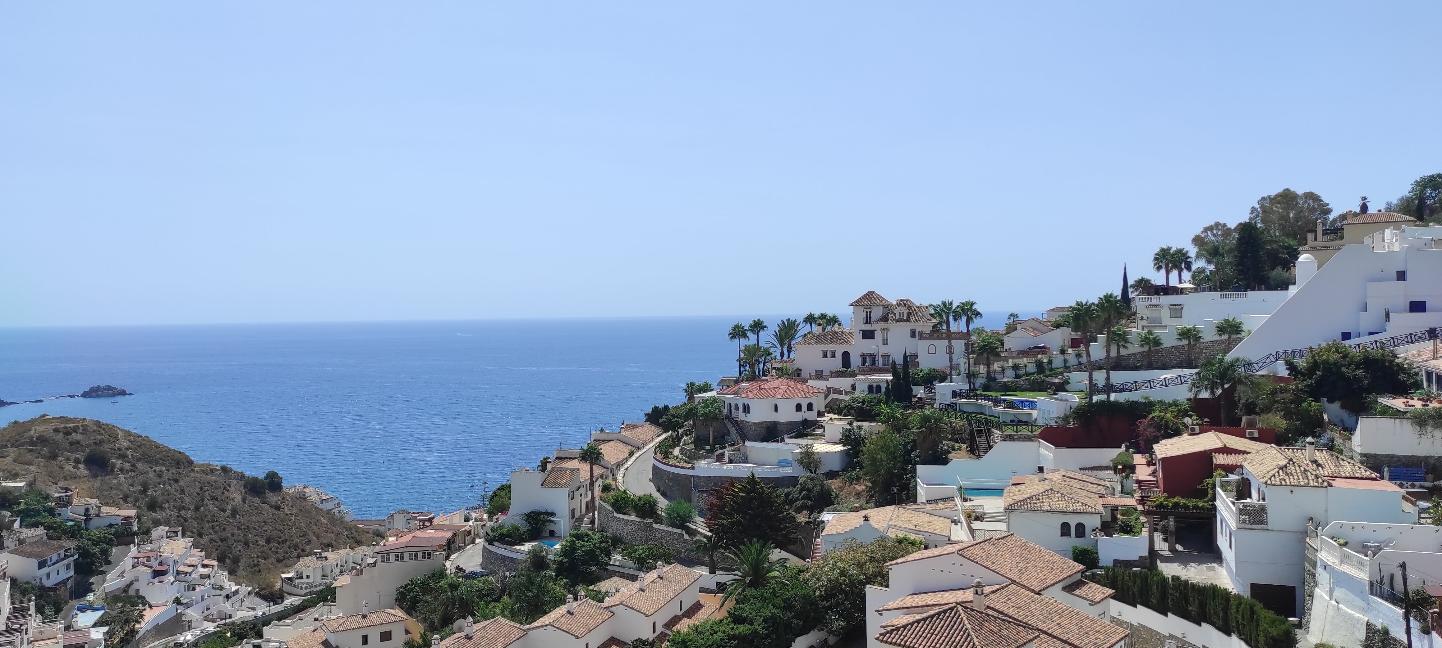 To follow us building a new life under the Andalusian sun, please subscribe to my future blogposts in English, connect on Facebook or follow us on Instagram:
Salobreña, 28th of August 2021, Reijer Staats
Neighbours, Vecinos: the longest-running drama series in Australian television about the domestic and professional lives of the residents of Ramsay Street in a fictional suburb. It's a short cul-de-sac, made up of six houses where, in the past, Kylie Minogue and Jason Donovan, among others, could call themselves residents. The street and its neighbouring area includes a bar, hotel, café, police station, lawyers' office and park, where many of the storylines take place.
Our life takes place in Andalusia. In the lower village, the Barrio Bajo of Pinos del Valle in the foothills of the Sierra Nevada and, 25 minutes by car towards the coast, in Villa Merise in a community of 7 houses in Costa Aguilera Alta, just outside the coastal town of Salobreña. I wrote before that we sometimes feel to be on the set of a film by the Spanish director Pedro Almodóvar, with the many absurd soap-like storylines, which never seem to amaze us and which we are enjoying immensely!
Part of the patio of our main residence Guesthouse Lolapaluza.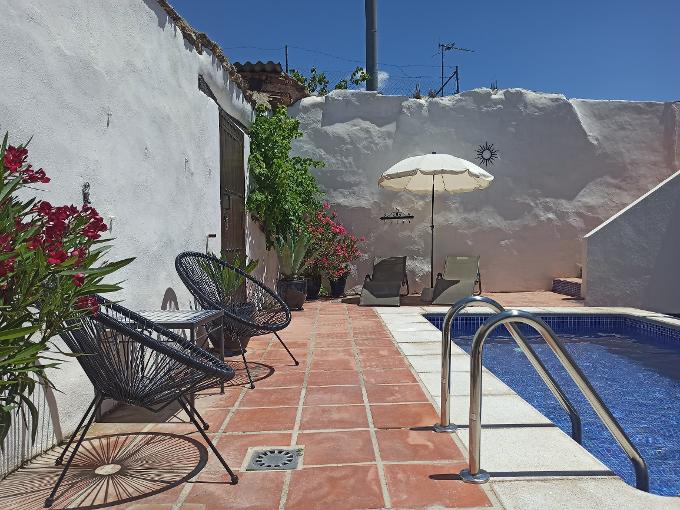 Johan drops me off at the front door of Lolapaluza, our home in Pinos del Valle. It is 16:30 in the afternoon and the thermometer is reaching temperatures well into the 40's. In the heat of the day we just arrived back from a hike through the Barranco de Luna, where the crystal clear cold water in the deep shady gorge works like a kind of natural air conditioning. The descent to it and the climb back to the parking area were unpleasantly uncomfortable in the Spanish heat. Francis, Johan's sister, Han, our brother-in-law and their kids are still there with their car, which has become overheated and refuses to start.
Barranco de Luna. Not our first time and certainly not our last.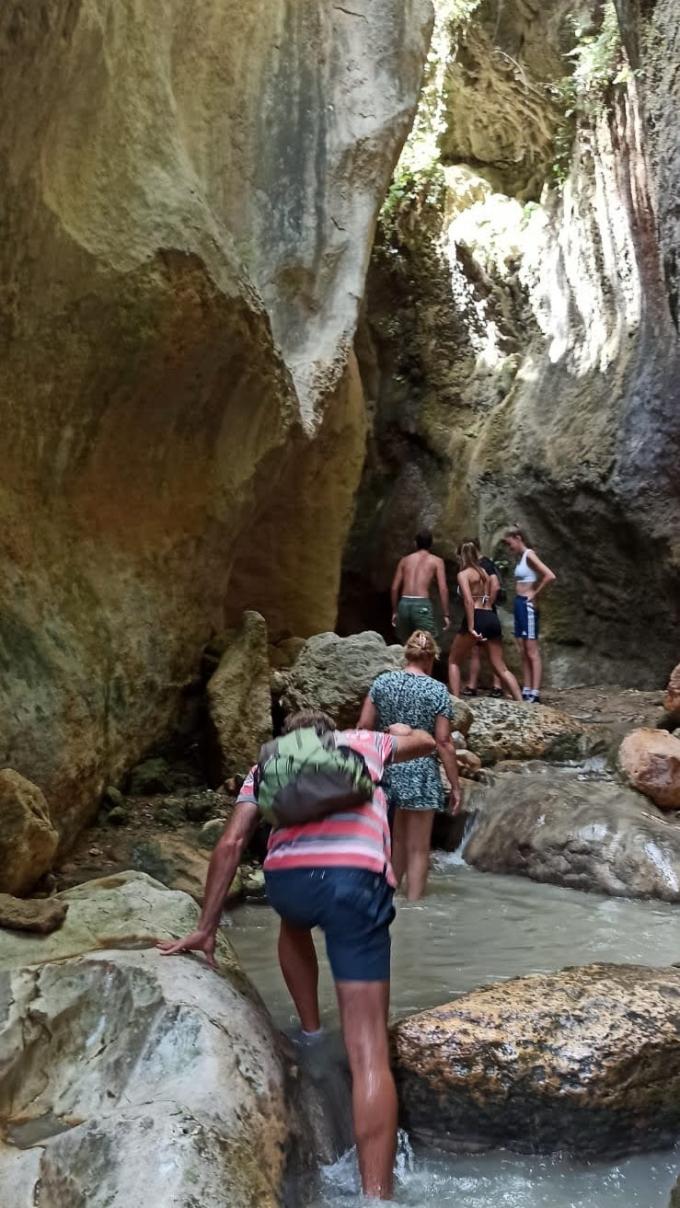 I pop in for some refreshing cooldrinks, for Johan to take along to the thirsty family. He will return to the parking area in the neighbouring village of Saleres to pick them up and to take them back to Lolapaluza, where they can relax at the poolside and wait for the car to cool down. Johan logically feels some urgency to save the family from a sunstroke. But when he's ready to drive off, a known car of an unknown neighbour appears to block the street again. A dark Citroën Picasso is parked parallel to a full dumpster, which is being used for a renovation project near our house. We are in the middle of the Andalusian siesta, but I can't see any other option but ring the doorbell at the neighbours to ask if the double-parked car could be removed.
I Start at number 20. A friendly heavy-eyed señora, whom I recognize from another street where she apparently uses the back door as the main entrance, opens her front door and replies she doesn´t know who "el coche negro" belongs to. She crosses the street and puts her head through the fly curtain hanging in the front door of Angéla and Salvador´s, our sociable neighbour, who is a persistent collector of scrap metal. After calling her a few times, Angéla appears in the doorway. Synchronized with the señora's elder son, an ever-friendly guy, Angéla fingers point to number 18. The both of them nod silently as if it is a matter of course. While I´m ringing the bell, Angéla makes clear that I better knock and when I knock she yells "Más fuerte!" to me, gesturing that I really have to hit harder. A drowsy muchacho with a bare chest and only wearing a gold cross pendant around his neck emerges from behind the small window next to the door.
He sends out his father. This guy silently walks along with me to his car with a grumpy face. We are being watched by Angéla, the señora from number 20 and her son, from their doorways. I ask the man why he's blocking the street, since, we as vecinos, sometimes need to drop off something at the front door also. Just around the corner is a large public parking area, anyway. He remains silent and waves to Johan unkindly, beckoning him to drive back a bit, so that he himself is able to manoeuvre his car into another street, which is now being blocked as well.
When peace has returned, when the engine of the stranded car of my in-laws is running and when we feel refreshed again ourselves too, we leave our house at the end of the afternoon, around 19:30. Robin and Karin, who are one of the very first non-Spanish residents of the pueblo, have invited us for dinner. Laughs are guaranteed during an evening with our friendly Anglo-Swiss neighbours, given their British humour, with its strong element of satire aimed at the absurdity of everyday life. The wooden Andalusian gate of their casa is opened and we enter the covered courtyard, which leads to the patio with swimming pool and to the leafy garden with fantastic views of the Sierra Nevada. The rooms of the house are located around this outdoor space in hacienda style.
The table in the covered area directly behind the gate is already set. A large standing fan rotates full speed. I sit down with a sigh in the cool air blown over the table. On the menu today is Raclette: the wintery Swiss recipe for melted cheese under the grill. I suddenly remember that we had talked about Raclette when we had Robin and Karin over, for diner around Christmas. This, however, was under slightly different weather conditions. The raclette grill is placed on the table, exactly in the middle, between the fan and myself. When it is turned on by Karin, I immediately start sweating again, as the ventilated air is heated up considerably by the grill and blows right into my face. We drink some delicious red wines, which are also slightly warmer than the 19°celcius recommended. The four of us laugh about it heartily.
Robin reveals secrets about the ins and outs of our vecinos in the past quarter of a century with dry humour to contrast with the ridiculousness of the events. He tells us about old Horacio, who lives just down the road from us. In recent years, this bony Spanish neighbour has only taken small strolls behind his walker. Every time we meet on the street at one of his regular resting points, we greet each other, saying "Buenas tardes!" Horacio probably only recognizes me thanks to dalmatian Joey who walks with me on a leash. Until two and a half years ago, however, Horacio was still busy working his vegetable garden daily, adjacent to our holiday let Casa Una Más. The piece of land with its small alberca as a water depot and the large avocado tree was always full of juicy tomatoes, red and green peppers, huge courgettes, heads of lettuce and cut flowers.
Horacio's former huerta (vegetable garden) next to Casa Una Más.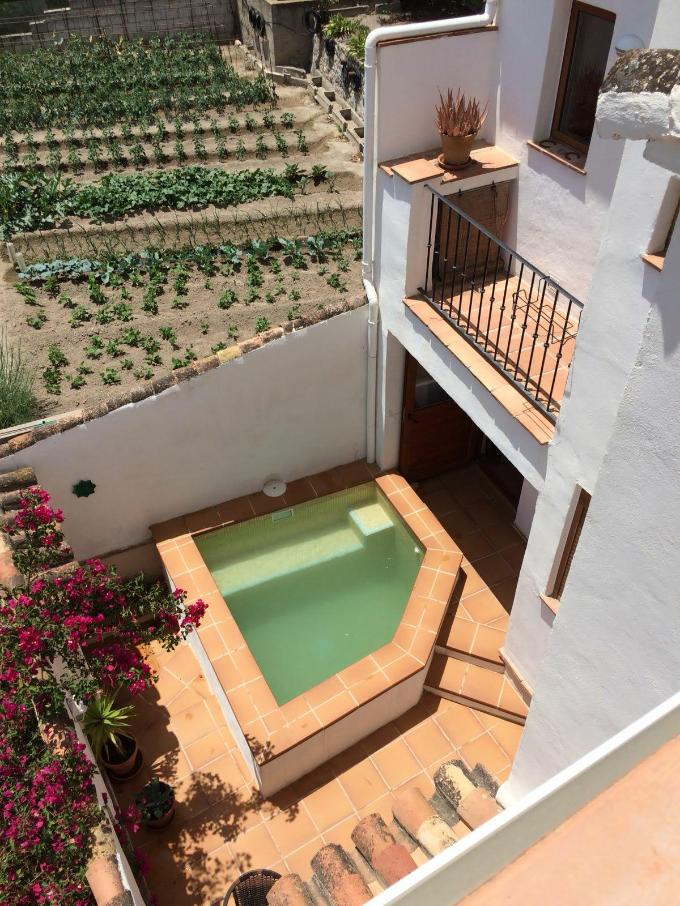 Nowadays, the huerta looks a bit neglected with three low-maintenance fruit trees only. "He would have been in trouble if he had parked his car in front of Horacio's house!", Robin speaks out, referring to our incident that day with number 18. "Horacio would have scratched the entire side of the car with his keys without any hesitation." Horacio also had a small dispute with Peter and Stella, who sold Casa Una Más to us six years ago. When they were converting the former stable into a house in 1997, there was a quarrel with Horacio about the boundaries of the property. In his memory and according to what he was told by his parents, the property boundary should have been somewhat more in his favour.
According to Robin, the dispute escalated enormously during a meeting on both sides of the line. Peter, who didn't speak a word of Spanish, and Horacio, who obviously didn't have a word of English in his vocabulary, debated with each other, each in his own language, of course. Robin adds to that: "The verbal allegations got louder and louder, as if they both thought shouting louder in English would automatically become Spanish and vice versa." From then on, the wall that Peter and Stella would build on the property line during the day, would be broken down again by Horacio at night.
You will find a massive white traditional mansion right in between Robin and Karin's and our home Lolapaluza. It has a double French doors with two cast iron knockers and an enclosed courtyard with a huge sliding door. It's situated on a corner with the street on three sides. Aïda, a very friendly Moroccan lady, turns out to live there part-time. For the period that she is staying in the house, it will always be obvious thanks to the watchful and noisy toy dogs that she has in her immediate vicinity.
At the rear of the house, which is on our street, we can sometimes smell the wonderful scent of Moroccan herbs coming from a small window. Opposite the front of her house and behind a low wall, you will find Aïda's shaded, overgrown patio, paved with cobblestones. There is a fountain in the center and scented jasmine grows over the wall. In the patio are pots with summer flowers and succulents and against the wall bordering the public parking are some mature fruit trees. The branches with pomegranates, which are almost turning shiny red now, grow over and through the terracotta garden wall and can be picked from the parking. Sometimes after having parked my car and getting out, I can hear religious Arabic chants coming from the garden and I imagine myself to bein Jerusalem instead of in southern Spain.
Robin tells us that in the past they occasionally caught glimpses of the courtyard from their roof terrace. Aïda was still living with a husband back then. Through some tall trees in between their houses, they could see the courtyard that had been used as a huge scrap yard, fading that of our sociable neighbour Salvador. Robin even remembers the occasional old scrap car, to be parked there. Onslow and Daisy's driveway, a filming location in the British comedy series Keeping Up Appearances comes to my mind. A large dog that inhabited the old scrappy car in the driveway always terrified Hyacinth when she walked past it. I imagine the scrap car in Aïda's courtyard as a shelter for her noisy little toy dogs. Once in a while, when she had enough of her husband's scrap collection, she would call for a grab truck to have everything removed.
We arrive for the birthday of one of our Belgian vecinos, being held on their roof terrace bordering the olive groves of the Barrio Bajo. To my great delight I can see that our villager nicknamed Chappy, who was introduced in my twenty-sixth blog post Dutchies in Spain, has been invited also. He is talking to our beloved neighbours, Josefina and Juan Antonio, who have been in on it since the first episode.
I walk up to Chappy in the front corner of the roof terrace to start a conversation about wine and viticulture and actually, to try applying for a winegrowing internship under his mentorship. I point my finger to the Sierra de la Contraviesa, which is the mountain ridge with vineyards in la Alpujarra that we are now looking at. Chappy immediately grabs his phone to show me some pictures of the cork oak forest on the ridge. Coincidentally he was there today. I really need to improve my Spanish, since my attempt to apply does not really come across. In view of Chappy's many side jobs, one of which is the opening and closing of the many sluices in the acequias, the irrigation channels of Moorish origin irrigating the orchards, he has to leave the scene already, only to return later when it is already dark. I can see Chappy walking into the campo from the roof terrace.
Speaking of wine. Recently we restarted delving into the Granada wines, since our guests, Madrileños Eduardo and María Jesús, who stayed at Guesthouse Lolapaluza for a week liked to have their daily bottle of Granada wine, accompanied by Johan's delicious tapas.
The drawing Eduardo made of our patio. In this Instagrampost you can read María Jesús' comment written on its back.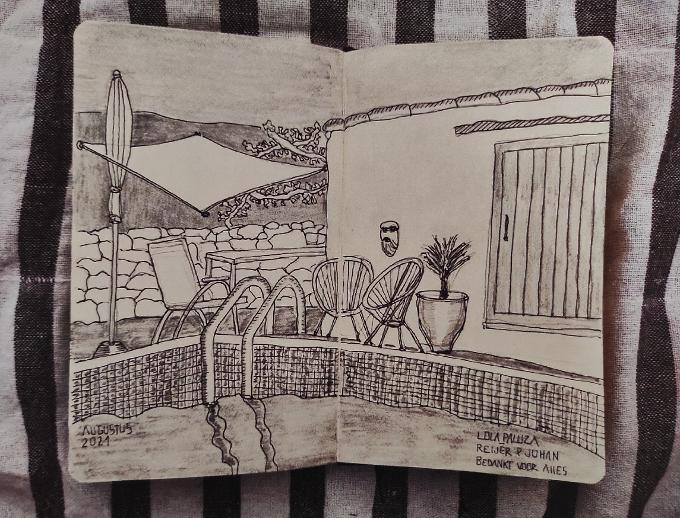 Here I go again driving my Renault 4 to Bodega Señorio de Nevada for a box of one of our favourite local reds called Plata. On a Wednesday morning I am meeting winegrower Carlos Ruiz in the authentic Tapas bar El Arca de Manuel iin the neighbouring village of Restábal. The tough but friendly guy from Bodega Alto Valle, is sitting on a bar stool at a wine barrel, drinking a cerveza and enjoying a tapa. He asks if I also want something and tells, pointing up, that his vineyard is located at an altitude of 840 meters above sea level. I leave the bar again with two engraved wine glasses, branded "Alto Valle", as a gift and three bottles of Arrendajo Reserva 2019 and three young red Roble from the 2020 vintage in a box. The label of the Reserva is saying that the wine is of organic origin, that the production process is traditional and that only 150 bottles have been bottled. Back home in our wine fridge we also find some Guindalera bottles from Bodegas Calvente and a few from Cuatro Vientos, which we had purchased during our wine tour Un día Alpujarreño.
And last but not least, we still have this bottle of Viña de Jorairátar from la Alpujarra. It has this simple label and we are drinking it ourselves as it was a gift from Azucena, one of our neighbours in Salobreña.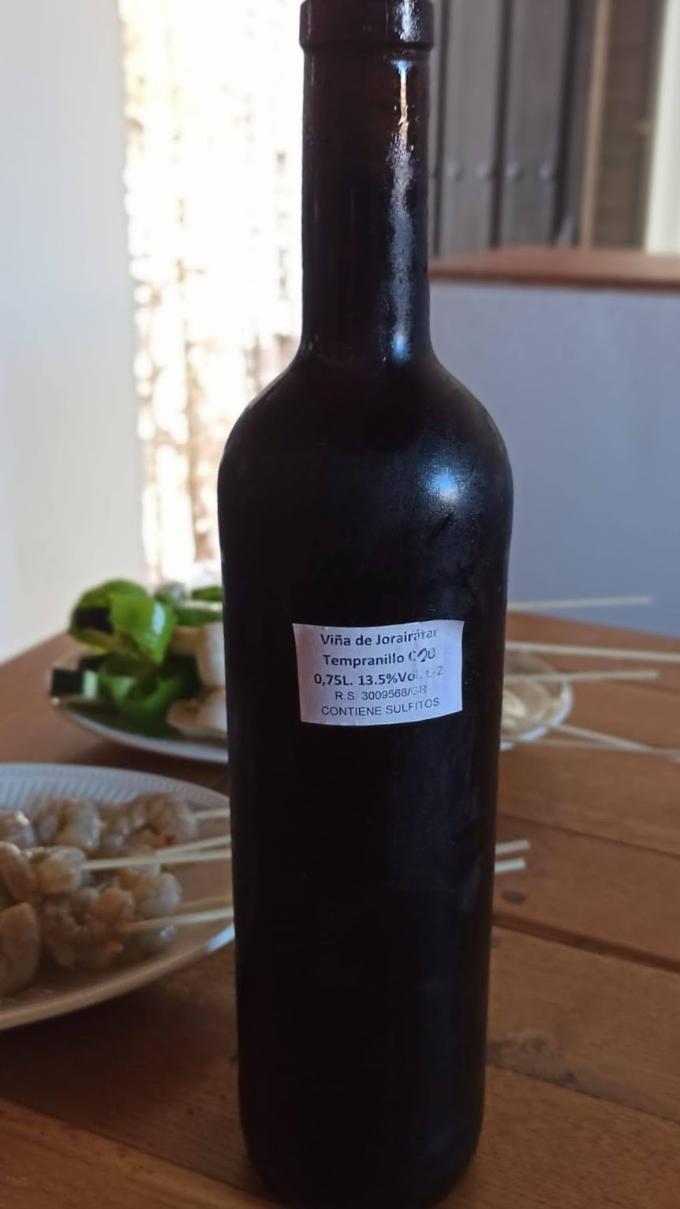 As Chappy has just left, I continue to talk to our other vecinos. Juan Antonio was already gazing at me prankishly. Whenever he looks at Johan and me as a couple, he points his finger in Johan´s direction, saying that he speaks Spanish "mucho mejor" than I do. After having mentioned this again, an amusing burst of laughter follows. Of course I immediately react in a nagging manner, which will only make it more appealing for Juan Antonio to place the same comment again next time. Johan, who always lets me do the talking, somehow manoeuvres me in the position where I am embarrassing myself with my poor Spanish skills.
Since the Belgians, as self-proclaimed foodies, let the booze and food go around in abundance, Juan Antonio asks who actually takes care of preparing meals in our household. I point to Johan while I mispronounce the Spanish word for "kitchen": "cocina". I pronounce the first "c" as a "k" which is a good thing. The second one also, however. Josefina corrects me immediately. She repeats the word cocina and pronounces the second "c" as an "s". I repeat: "Ah, okay, kosina!" But Josefina, who is very precise in her pronunciation corrects me again. Up to three times in a row. I learn that the Spanish have an s-sound, which is somewhere between a regular sharp-sounding "s" and the softer English sound of "th": Kosthina!
The face of our other Belgian friend Machteld is showing some question marks in the meantime: "Who exactly is who?" She has known Chappy from Bar Venicia of course, and in our blog she had already read about our neighbour Josefina. "Are they a couple then?", Machteld asks, because Chappy's real name is Juan Antonio too. I am introducing Machteld to Josefina as "La Belgica de casa azul, opuesto a la panadería." The blue facade of Hans and Machteld's is a real eye-catcher In the narrow street of the bakery. Josefina immediately responds, knowing the house I am referring to. She says to have known it very well and to have been there many times, since her "amiga" used to live in the house. Josefina tells us she would very much like to have a look inside again to see how Hans and Machteld have renovated it. While we're making an appointment, I suddenly have a déjà-vu. The memory of a dinner with Hans and Machteld in Lanjarón, about 2 or 3 years ago, comes to the foreground. The memory tells the story of two adult sisters, former villagers of Pinos del Valle. They were one of the first guests of the B&B and they were also very curious to see what Hans and Machteld had made of the property. They had grown up in this house, so it turned out later. As we sat on the terrace in Lanjarón and while it was getting dark, Hans's phone moaned with many different sounds of incoming text messages and calls. After their visit to the local Bar Venecia, the sisters had already returned to the B&B. They had become frightened in the house that had become dark and quiet, with its owners having dinner outside with us. Apparently the ladies did not only have good childhood memories. They had locked themselves in their room and were panickily asking Hans and Machteld if they could please come home again.
The Guardian Sea Club iin Salobreña rents out kayaks. Villa Merise in the background.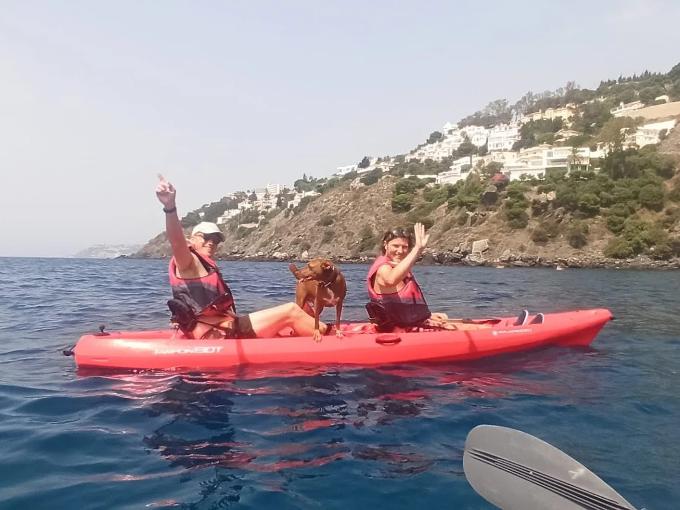 Time flies by so fast and the hot month of August almost comes to an end. We welcomed many guests, former co-workers, friends and family. We prepared a great number of breakfasts, served wines and tapas and advised on the most beautiful walks through riverbeds, on outings and scenic routes and on restaurants that we consider to be hidden gems. Sometimes we go along ourselves too.
After returning home from a morning kayaking with family and friends, I get into a conversation with our Madrileño guests in Guesthouse Lolapaluza. They tell that they had done the kayak trip a day or two earlier, and that they had rented their kayak at The Guardian Sea Club also. María Jesús asks me whether I saw merluza (hake) swimming around also. I myself, was mainly focussed on our podenco dog Mèlo, which, because I shared a kayak with our friend Sebastian and Johan was sharing one with his sister Francis, was quite restless and wanted to switch continuously from one kayak to the other. As a result I didn't pay much attention to my surroundings.
María Jesús starts explaining why there was quite a lot of merluza floating around during their trip on the waters. According to her, it would be a direct consequence of the decreasing numbers of "tortugas" in the Mediterranean due to plastic related pollution. Me: "Tortugas?" María Jesús: "Si, son animales", while, with one hand, depicting the biting movements of a mouth eating merluza. Me: "Son peces (fish)?" Eduardo joins the conversation from his lounger: "No, son amfibios!", making breaststroke movements with his arms. I stare at them in silence for a moment, and a big question mark probably appears on my forehead. María Jesús gets up from her sun lounger, kneels along the edge of the pool and walks forward with very slow movements on her hands and knees, also imitating the animal with the expression on her face. I still don't understand her. Eduardo now joins his acting wife and portrays a large curve on her back. "Ah, a sea turtle!!" I exclaim. I probably should have understood medusa instead of merluza also. I didn't seen medusa while kayaking myself, and this year I hardly spotted any anyway, but apparently, sea turtles seem to eat jellyfish every now and then.
August 24, my sister Meris's death anniversary, is slowly approaching. In the run-up to that day, I notice myself to be reading back many of the messages, postcards and photos of last year's period just before her death. I cherish this period last year when she was still among us and when we were able to spend precious time together. Johan and I are staying in Villa Merise on the Costa Tropical ourselves at the moment, because Guesthouse Lolapaluza has been rented out entirely for private use. On the 24th of August, the Vuelta a España passes the backyard of Villa Merise and I have decided to allow myself to enjoy this special occasion too. We have invited our neighbour Teresa with her friend Encarma, our neighbours Robin and Karin from Pinos del Valle will come over and our friends Sebastian and Perry with his son will be there too. In a flash the peloton of riders passes us by while I am shooting this video as proof. After the encouragement of the cyclists ("Vamos chicos!!!") and of the Guardia Civil on duty ("Hola guapos!!!") by the Spanish ladies in particular, the time has come to sit down together for lunch.
Most Spanish get a bit shy with the Guardia Civil near. Not Teresa, who starts telling a short story of an event taking place almost 50 years ago. She is telling it in an animated and passionate manner. As a young woman she was stopped by the Guardia Civil on the N-340, close by, where we just saw the Vuelta a España passing by. It was 03:00 at night and she might have had one glass too many, coming back from a night club in Motril. Breath Alcohol Tests were just being introduced by the local police in the mid-1970s and Teresa was one of their first test subjects. She had to exhale into the instrument, and really didn't want to, so instead of doing so, she started a discussion: "Why should I? The device will explode!! Just give me a fine, then I can go home to go to sleep!!" But the officers were persistent: Teresa had to blow, since the Breath Alcohol Test was in pilot phase! She invited them to her house, trying to gain some time to convince them over a drink. By 05:00 early in the morning, after the necessary negotiations and after having had some drinks, she finally succeeded and the policemen left. She was furious the next day, when a letter arrived anyway, stating the date and time on which she and her lawyer could answer to the court in Granada. None of her friends with whom she spent the evening in the night club wanted to testify and she immediately broke off their friendship. The only witnesses were the two police officers of the Guardia Civil. On Judgment Day however, when Teresa was deeply concerned about her verdict, the two kind policemen did not show up and, consequently, Teresa escaped without penalty.
I have finished the third part, chapters 7 to 9, of Teresa's Memoirs in Dutch, I have translated them into English and I have sent them to Teresa for reviewing. In response she writes me a message: "I really enjoy reading the book and I cannot stop reading. You are painting a very truthful portrait of this woman and, so many years later, it evokes exactly the same feelings in me that I had at the time. I hope you will write a lot more so that I can get to know this woman even better…" Every now and then I post a little teaser in my blogposts and on Instagram, about Salobreña in the 1950s for instance, about the first tourists in "La Fonda" or about the Jetset of the Costa Tropical in the 1970s. Please be invited to follow me on Instagram! With Teresa as my personal tour guide, I am also shown around Salobreña's most special secret places, the area of her childhood in particular. In every single street where I take a picture, Teresa runs into a former neighbour. In every building, that I ask a question about, she has one of her cousins living.
Johan and I celebrating the granting of the building permit for our renovation project in Béznar in the Lecrín Valley: Casita LittleSwiss!
We are now preparing for the late season and still have last-minute availability in Villa Merise in the period until the 17th of September. If you know someone who is looking for a holiday let in this period, please spread the word. Or check our rental page for availability and rental prices in another period. The building permit for our latest renovation project in Béznar in the Lecrín Valley has also been granted. Everything in, on and behind this facade on the citrus groves will soon undergo a major transformation into an authentic and traditionally built house! The entire roof will be demolished to create a roof terrace with the best and sunniest views of the green mountains and Béznar lake.
We are now enjoying the sun and the last few days of our vacation in Villa Merise!
Hasta luego from Salobreña.
Johan & Reijer