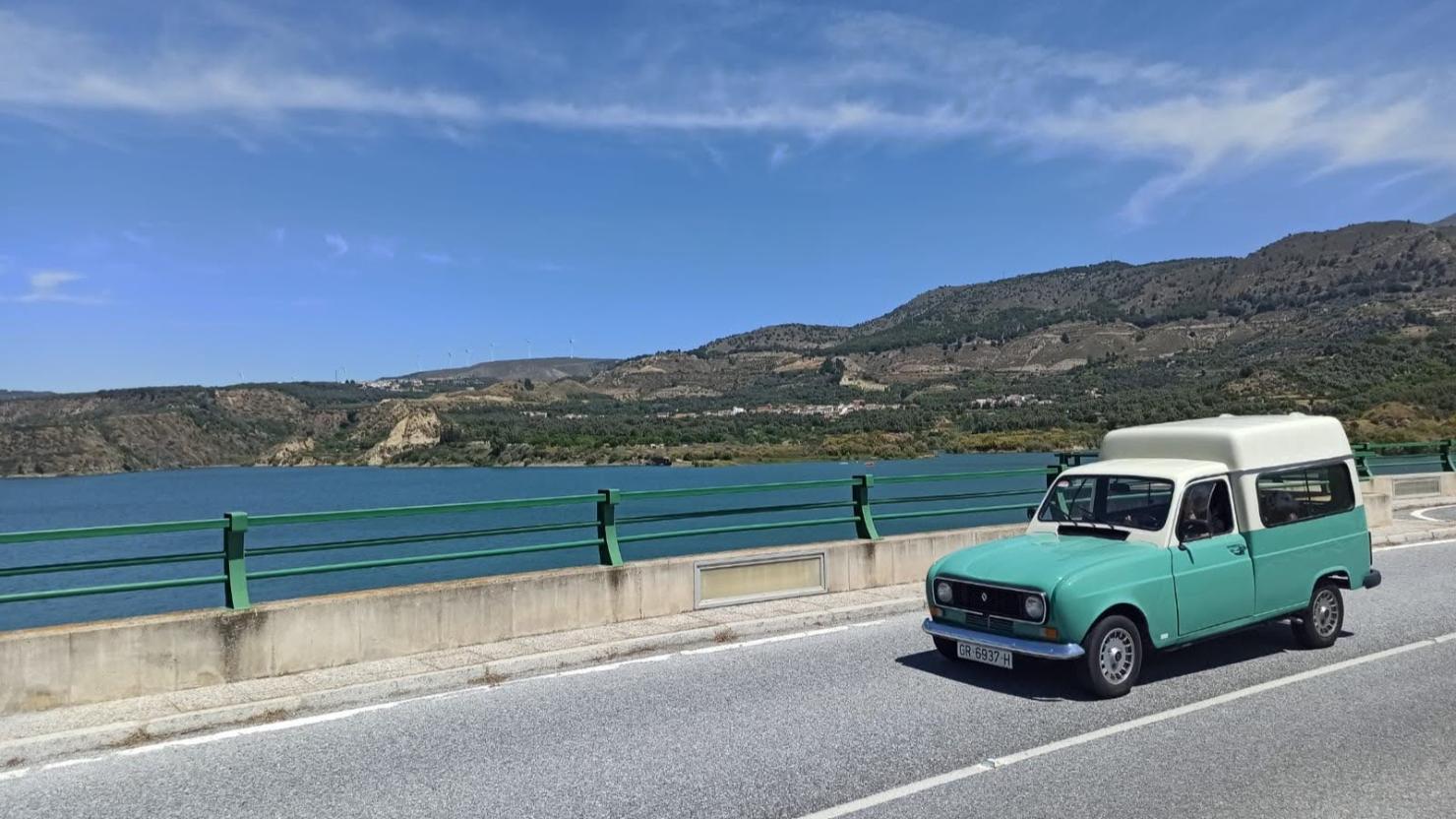 A tour through the Valley in Cuatro Latas
To follow us building a new life under the Andalusian sun, please subscribe to my future blogposts in English.
Pinos del valle, 27th of May 2021, Reijer Staats
I am casually parking our vintage Renault 4 on the small plaza in the upper village of Pinos del Valle. I am seeing the geranium-decorated facade of one of the village houses in my mirror. To the right are the pastel green coloured window frames, shutters and doors of the B&B. I am pressing the horn twice: "toot, toot!" and Chloë immediately reacts to the monotonous tones and she appears from behind the curtains on one of the Juliet balconies: "Hi, just one moment, I'll be right down!" While I am getting out of the car, two old men leaning on their walking sticks are thoroughly looking at the Renault classic and it seems to have their approval: the corners of their mouths are moving down and they´re nodding their heads. B&B owner Martin comes out and the two of us are taking a seat on the wooden bench next to the guest entrance on this warm early morning.
Chloë is currently writing an article about the Lecrín Valley for a Dutch magazine for Hispanophiles, and, being an influencer on Instagram, the local Tourism Board also asked her to give some attention to our relatively unknown region. I am really excited to take her for a tour through the Valley in Cuatro Latas, in "four cans" as the Spanish have nicknamed the classic Renault 4.
Chloë on the hood of the Cuatro Latas, parked in the vineyards of Bodega Señorio de Nevada.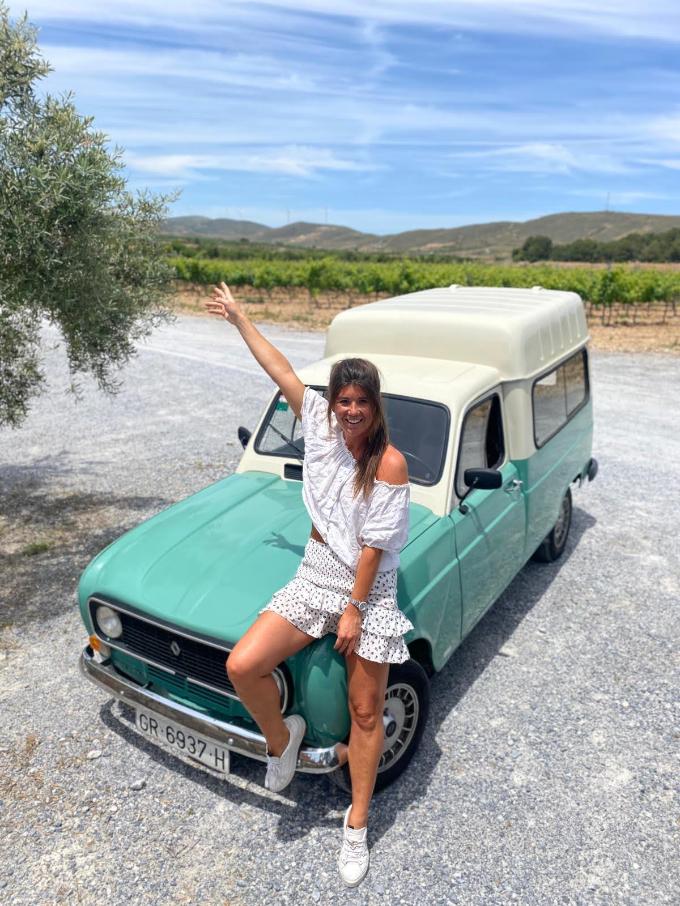 We are driving out of the pueblo through the narrow streets and I am concentrating to manoeuvre along the white facades, to avoid damaging the side mirrors. However, Chloë is immediately asking a lot of questions and she is quite busy with her iPhone, shooting content for her stories. As soon as we are driving down the hill on the winding road to the lake, I am getting to know Chloë as if she were an extremely enthusiastic younger sister. Will we be able to relax a bit during this tour through the Valley?
After crossing the dam with the name Presa de Béznar, we arrive at the pueblo Béznar and I am suddenly turning left into a side street to show Chloë our renovation project "Casita Little Switzerland". Thereafter, a narrow winding road with a wildly flowing acequia next to it, takes us through the campo with mixed citrus groves to the local water sports centre: Centro Nautico. The bright red flowered pomegranates are in full bloom and the orange apricot-like nispersos are being harvested. Chloë, asking a closed-ended question: "I love these flowers so much. You too right? ", but instead of answering I am making a short shrill noise, while I am trying to avoid the threatening wildly flowing irrigation channel with my right front wheel. Startled, Chloë grasps me by the shoulder.
Centro Nautico Béznar.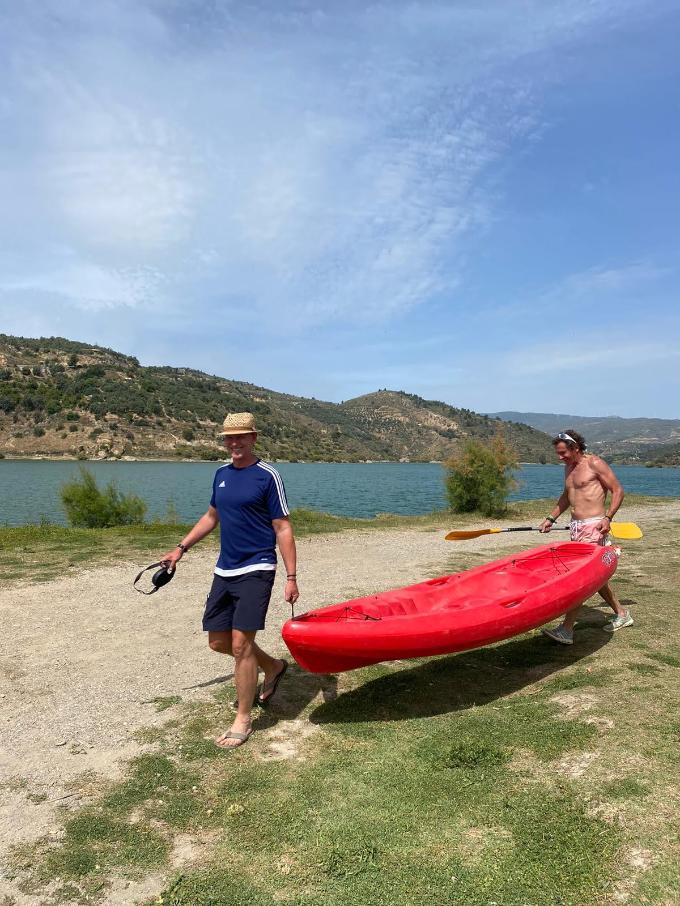 Wearing his dirty pink swimming trunks, José Antonio, the charming, cheerful and sporty owner of Centro Nautico enthusiastically waves at us, while cleaning his campervan as we are passing by: "Hey, I know that car! I am following you on Instagram!" As I stop the car, Chloë asks him for a pedal boat to take a trip on the lake.
Our little podenco Mèlo looks at me startled as I am lifting the wet dog on the pedal, as if she's asking me whether I'm really serious about this boat trip and whether we can't just keep throwing and returning sticks in and out of the water. As we are less than five meters from the shore, the quirky little Mèlo decides to jump off the pedal boat and is swimming back to the shore resolutely.
Let's just say for now, we're in the same boat.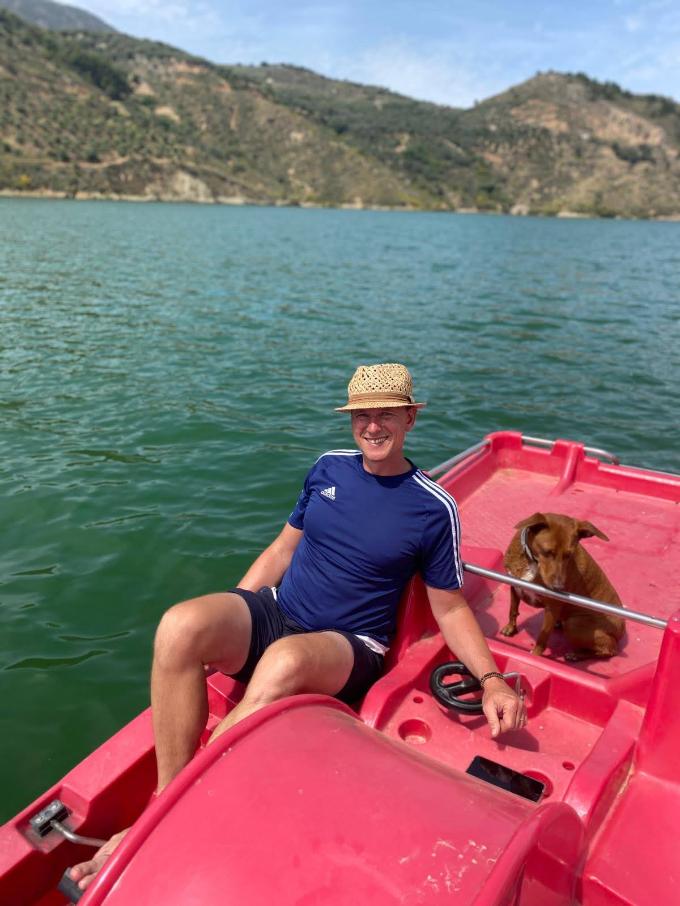 On the third attempt Chloë and I are managing to keep Mèlo on the boat, and she slowly starts to relax a little bit. In the meantime, we are really going for it and we are kicking the pedals to a good pace! Drops of sweat are starting to run down my face from under my hat. Chloë: "Hey, do you mind slowing down a bit? I am starting to feel my legs. Are you too?". Me: "Why not start pedalling less intensively then? You will automatically notice it to be less tiring." No sooner said than done, we are floating around without any plans in the middle of the lake, and the sporting activity turns into a lazy summer morning on Béznar lake against the backdrop of the hilly Mediterranean landscape.
Chloë decides bravely to cool down and to take a dip in the refreshing lake and as she is splashing in the water, Mèlo, startled again, is directly jumping on my lap. On the route back to Centro Nautico, and with a smile from ear to ear, Chloë admits to be following my advice: in half an hour, countering the winds, with my legs burning, and entirely on my own strength, we are now arriving at the waterfront. Since I do not like having a wet dog nor soaked persons in the "voiture", I decide to do a walk along the shores of the lake until we have all dried up. After having changed our clothes, we continue the tour through the Valley in Cuatro Latas.
Chloë asks me to stop every time when we are passing one of the white villages, in order to take pictures for her stories. We are killing our thirst at the natural water source along the shady Dúrcal river near Restaurante El Molino del Puente, and we are filling the empty 5 and 8 litre water bottles that I always carry along in the back of my car. I am amazed again how this woody and shady place reminds me of the Belgian Ardennes Forest rather than of southern Spain. It´s really nice being here on a hot day like today.
Natural water source in Dúrcal.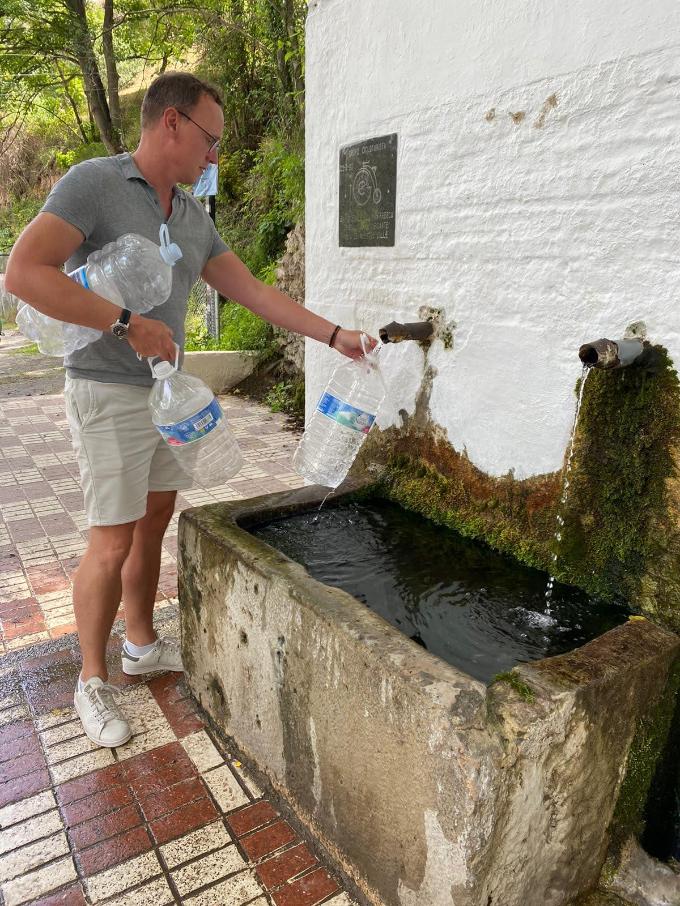 To purchase some bottles with precious fermented grape juice, I am parking the car in the vineyards of Bodega Señorio de Nevada. Johan sent me for a box of red Plata and since we were passing by anyway, Anne from the B&B asked me to bring her a box of Rosado, the best Rosé wine produced in the Denominacion de Origen Granada.
Chloë is turning to the señora behind the counter: "Do you have a brochure and can you tell me something about the wine tastings on offer?" The señora, responding somewhat curtly: "On Saturdays we have the tour of the cellars explaining the wine making process with a tasting of one wine for € 12, - or € 16, - for three wines ". I can see how Chloë's head is making a somewhat astonished diagonal movement, as she is quickly asking some additional questions about the high costs and while she is portraying the wine tasting by spitting out the wine: "Wine tasting with only one wine?" The señora is repeating rigidly that the wine tasting is composed of the tour mentioned and one or three glasses of wine with tapas and she adds to that, that the wine should be swallowed.
Despite the beautiful setting of this iconic-looking bodega in the vineyards against the background of the Sierra Nevada, despite the fantastic restaurant and the marvellous Rosado and Plata, the concept of customer-friendliness at this state-owned bodega - and maybe because of that – has not yet been discovered. Anyway, since I scored my two boxes, we can now continue our road trip.
While driving on the winding mountain roads of the slightly higher, drier and rougher eastern side of the Valley with mainly olive and almond groves, I am thinking of the instructions that were given to me the day before. Johan, as a more experienced rally driver and knowing my somewhat chaotic driving style: "You Just drive in third gear all the time and at a constant speed. Otherwise she will definitely become nauseous."
But Chloë remains talkative: "I don´t think It's boring at all. What do you think?" Comparisons with Tuscany, southern France and the Cinque Terre are being listed: "I had expected that from the foothills of the Sierra Nevada." Me: "Yes, this place has something different and unique, but it's difficult to put it into words and our previous guests are always coming back." One of my Spanish colleagues recently wrote me the following message: "Honestly, I am amazed how this part of Granada Province has become a real hotspot for sun worshipers and peace seekers around the world."
After a descent of several hundred altimeters, we have again arrived in the more pleasant part of the Valley with plenty of citrus trees. Here, we are successively passing the pueblos of Saleres, Restábal and Melegís. Since I have always thought it to be the most beautifully set bohemian venue in the Valley, I asked Roberta Artyfacts a day earlier if she could receive us for lunch at Finca La Conca. The descent over the steep narrow curves down to La Conca is beautiful. It's strange at the same time, since this is the first time after 15 months of not being able to come due to Covid restriction. From the corner of my eye, I can see how Chloë's mouth is falling open behind her iPhone. One hundred amazing views later, we are driving onto the private property. The artist called Roberta, however, is nowhere to be seen.
Through the glass doors of the cortijo, we can see how Henry, a podenco shepherd on short legs, is looking up at us in a friendly manner from the chaise longue in the reception room. Alpha female Sushi is sticking her sleepy snout above the back of the sofa. The laundry is hanging to dry on the sunny terrace and the Tupperware with the preparations for a delicious mouth-watering lunch salad is waiting on the counter of the outdoor kitchen for a final touch. It is as if Roberta is going to appear on the scene at any moment now.
En route over the curving road to Finca La Conca on Béznar Lake.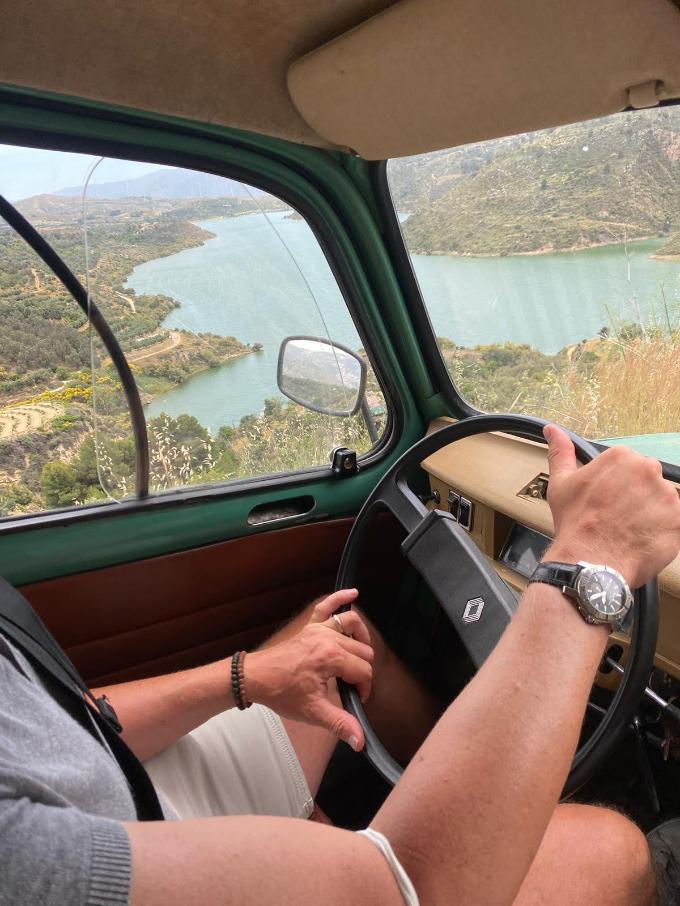 As I am becoming a little worried, I start knocking on the door and start calling out to our host. A few times and a little louder every time: "Holaaaa, Robertaaa!!" There is no response. Chloë is checking the gardens and the safari tent located a little lower on the site in the meantime, but she is also returning and it seems to have been without any result too. "Do you think that this is a dead snake!?" Chloë is enthusiastically holding a snakeskin of nearly three feet in the air and the word "Parseltongue" is introduced: the rare talent among wizards to be able to converse with serpents as well as other magical serpentine creatures. As Chloë is expressing her admiration for Harry Potter, for me La Conca is getting more and more spooky by the minute. Under the same gazebo where in March last year a spectacular Flamenco performance took place, we are now drinking the natural water that we brought ourselves from the source in Dúrcal.
Flamenco at La Conca Arts Club, just before the lockdown in March 2020.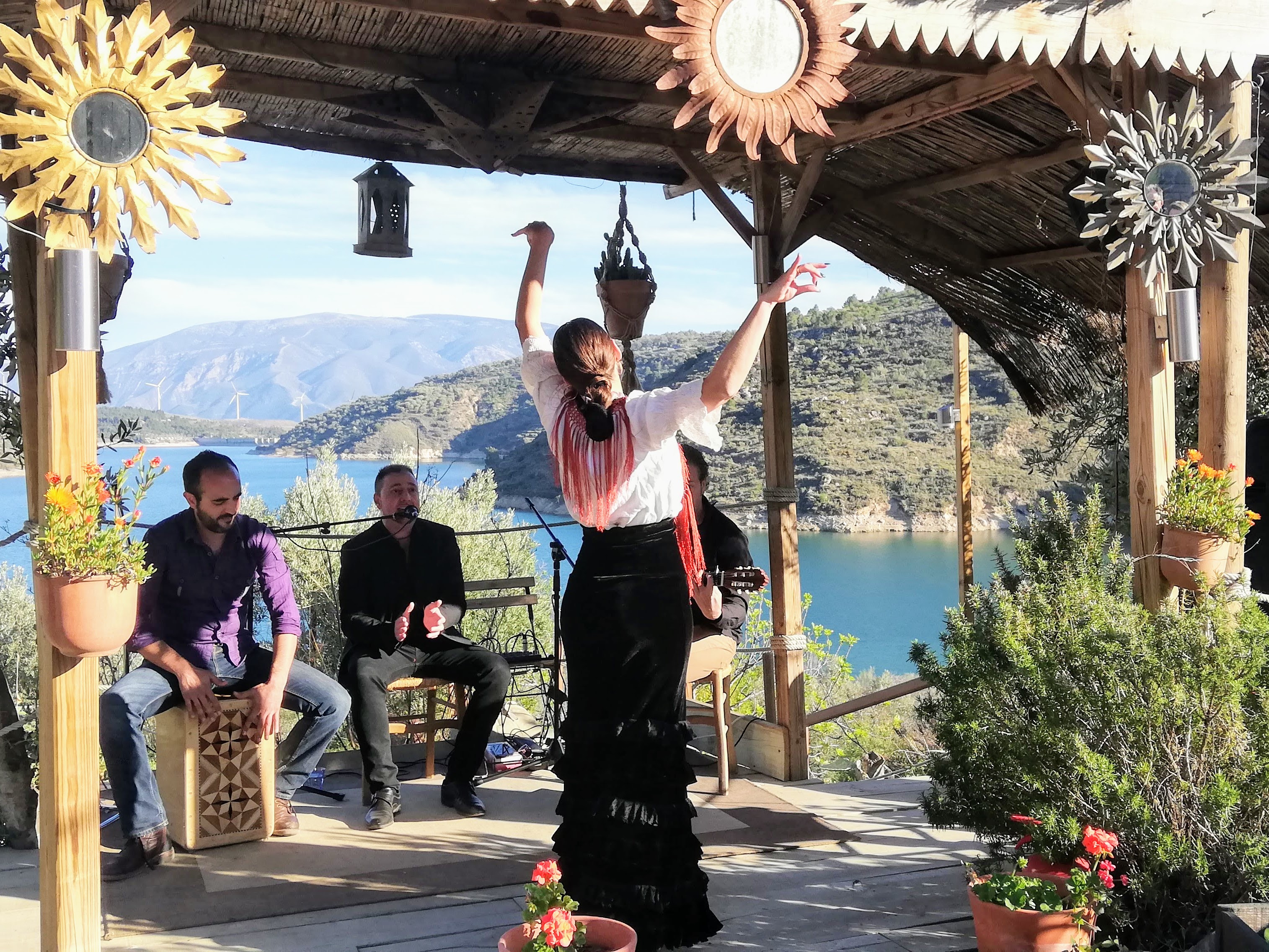 As I am still a bit worried about Roberta, we take a look in the outdoor kitchen one more time before leaving. Chloë is poking her head through the doorway and calls out to Roberta once more. Dog Henry slips out however and now runs to a newly arrived car. A cheerful fellow named Alasdair, dressed in army green from head to toe, is getting out of the vehicle. Chloë is immediately being provided with addittional Harry Potter associations, since Alasdair has an enticing Scottish accent. Soon, Dutchy Chloë and Scotsman Alasdair discover having a mutual interest in the unknown and lesser beloved region of Southern Scotland, for which Chloë was once asked to put it on the tourist map as well. Alasdair laughing: "Ha-ha, ah ne'er thought ah wid run intae someone wha knew th' toun o' Wigthon!" Roberta's cheerful and talkative friend tells us that he was sent by her, to explain that she had an accident elsewhere and therefore was not able anymore to receive us and to serve lunch. I'm driving up again on an empty stomach and Chloë, sitting next to me, is now really eager to meet the mysterious artist Roberta in real life after having visited La Conca and having heard Alasdair's stories.
Eventually, an hour and a half late, Chloë and I are sharing lunch al fresco on the terrace of Los Naranjos in Melegís. Johan joins in and is just taking a glass of wine, since of course he already had lunch earlier. Chloë is immediately noticing the hilarious dynamic between us: "It's really nice to see how you two are still casting amorous glances at each other, but you are argle-bargling over almost everything also." It's always nice to have an audience! It's already late in the afternoon and Johan and I have a "probably-maybe" to go to on the coast. Therefore I'm walking to the bar to pay for lunch. We are dropping of Chloë at Bar Venecia in Pinos del Valle, where I'm giving my extremely enthusiastic younger sister for today a high five as a thank you for the super nice tour through the Valley. Thereafter, Johan and I are rushing across the dam towards the Costa Tropical.
A tour through the Valley in "Cuatro Latas".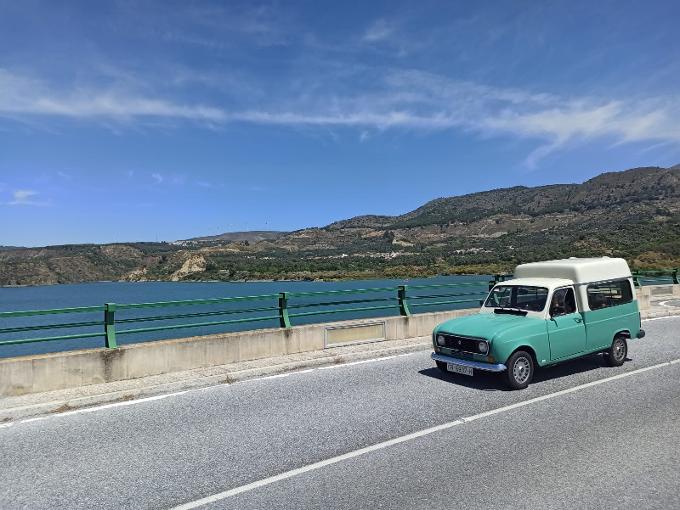 A few days earlier we took the same trip for a small mini break. Our small urbanization of 7 houses was remarkably tightly trimmed upon arrival. In our absence the gardener had apparently done a lot of work. We were still unloading the R4, when Azucena, one of the neighbours, was walking by to check us out and to invite herself for a drink later that evening: "I am bringing the bottle and we drink!" Was there anything important that "la Presidenta" of our small community wanted to discuss with us? That night at eight o'clock sharp the doorbell rang and almost immediately as I opened the door a deep sigh was escaping Azucena. Tidying up the communal grounds a few days before had apparently taken quite some effort. Azucena said to be over and done with the discussions and irritations, which were involved with carrying out the works, among the four active residents of the urbanization: "Basta!" Finally she spoke out: "… And now you can become the president!"
As said, this afternoon after the tour through the Valley with Chloë, Johan and I are rushing to the coast for a "probably-maybe" re-invitation from Azucena. But what exactly did she mean, as a Spanish lady, with inviting us to come by in the afternoon? Apparently, we are making a major error of judgment, by arriving at half past five only. Azucena is talking to her friend inside and immediately directs us to the outdoor kitchen in the backyard. A somewhat angry Golden Retriever runs towards these two strange fellows, barking wildly and with his teeth bared. Claire from Wallonia comes running from the gazebo and tells the dog in French that we are good people. I immediately have a nice conversation with her about fruit trees. Claire and Simon from Brussels, the other half of the young Belgian couple, are living in the campo just outside Maro, near Nerja, on a finca with an orchard. Simon remains silent and is rolling and smoking another cigarette.
The gazebo surrounded by succulents is equipped with a full kitchen with painted granadino style pottery. Simon is silently sitting at the enormous massive table in the middle of the room, and next to him Johan is seating himself, silently also, and looking a bit bored at the same time. Azucena's mother, who must be around 90 years old has had her hair blue-dyed and is wearing large butterfly thick lensed glasses. She could have been Sophia of the Golden Girls, being beamed over to this place. Sophia is quite sharp and well-spoken in her vocabulary and she has a loud and hoarse voice. The cheerful grandmother gradually determines the conversation dominantly with her repetitive statements. Martha, her African companion is giggling patiently in a beautiful sultry way and gives the grandmother an affirmative look and a caress on the arm every now and then.
In addition to a Moroccan teapot and tea glasses, an empty wine bottle and a water jug, there are also some beautiful expressive pottery objects, made by arty farty Azucena, on the table. The summery temperature, the bohemian-set table and the memory of the lavish meal that has just been eaten here, are giving a very laid back feel to the scene. Johan and I are realizing that we have not fully understood the purpose of the invitation and it is now becoming clear to us that we are much too late for lunch. I am sensing my energy leaking and Johan seems to be looking for a button, so that he can be transported back to the Starship Enterprise: "Beam me up, Scotty".
Azucena's amazing friend Cookie is now entering the gazebo also. How do I describe a woman with the appearance of a true gitana with a large dark bunch of curls, dressed in a bohemian Indian batik dress with elephants and an oversized Jamaican dreadlocks & braids cap on the head? This pleasant lady is super relaxed, very much interested in us and asking lots of questions. She says to be living in a cave house herself in the gypsy district of Sacromonte in Granada City. The grapes produced by the vines next to Cookie's cave house are providing 10 to 30 bottles of white wine annually and "ecological wine absent of sulphites" are now becoming the topic of discussion.
Panic is suddenly erupting as Claire and Simon decide to leave and when it turns out that their 20-year-old red Ford Station wagon has been locked in by Cookie's car in the narrow dead-end street and has nowhere to go. Cookie's car refuses to start and the battery or starter motor has probably died. Our clumsy Spanish, Dutch and Belgian hassle with jumper cables is certainly not providing a solution. Eventually, after pushing and manoeuvring some cars, the Belgians finally have a free way to go home. This moment also turns out to be our opportunity to sneakily head back home to Villa Merise. Here we are settling down and are feeling satisfied after a strenuous day. At dusk, a little while later, a tow truck with orange-waving lights passes our house with Cookie's broken-down car on the back.
Three weeks ago, after having driven our Cuatro Latas from Granada Capital to Pinos del Valle, we could have never thought to have this much of fun with the car already. Just after parking the car in front of our neighbours Juan Antonio and Josefina's house, I notice Juan Antonio, standing in the doorway and wearing his pyjamas and red slippers. As I am shouting "Mira, Mira!", I am giving signals to Juan Antonio to come over. "Aah un clásico! Es una reliquia!", he calls out enthusiastically, saying that he used to own a car like that as well. At the same time, also Johan, our plumber Gerardo and his assistant are joining in at the vintage car. But Juan Antonio points to an ever-growing puddle of oil that´s appearing under the car: "Aceite, aceite! Malo, malo!" The hood of the car has to be opened up and Juan Antonio exactly knows how to. While sitting in the driver's seat, he pushes and pulls every single button on the dashboard. However, it´s without result. The three Spaniards of three generations are now all looking for the correct button to press to open the hood. Techie Gerardo finally manages to open the hood, and immediately the three wise Spanish men, strongly arguing about the engine, bend over the front of our newly arrived retro acquisition. We ourselves, as the proud owners, are only playing a supporting role…
Our sweet neighbour Josefina is joining in also and strictly commands her "hombre" to wear his mascarilla. The location of the oil leak, however is not found and therefore Juan Antonio finds it necessary to get the engine started. He's jumping back into the car. As the guys had pulled out the car choke too far before attempting to open the hood, nothing really happens however. The car choke is completely paralyzed by the brutal pulling and therefore the engine is starting to flood. Pitch black smoke is coming out of the car's exhaust system, as if it is having a really bad cough. Johan, with shaky Mèlo on the leash, slowly strolls to the other side of the road, wondering why for God's sake this is happening to us. Juan Antonio can't think of anything else to do than hitting the gas pedal, creating even more smoke and to shout "Rota, rota! Malo, malo!" I am about to faint as a result of inhaling too much of the exhaust fumes. This should have been a festive afternoon, but the gathering is fading out, the interest in the vintage car is reducing to a minimum and everyone present is now leaving the scene. Us Included.
Over the weekend I'm pushing the choke back to start the car flawlessly and I am following Juan Antonio to the old-timer garage of his amigo Dionision in the pueblo of Nigüelas, where the engine is taken out of the body of the car. At the end of the week when the oil leaks are sealed with new rubbers and the car has passed the inspection from Dionision, we are ready to start enjoying our tours through the Valley and to the coast.
It's May 26th, the day that my dear sister Meris, who passed away last summer, should have had celebrated her 53rd birthday. Today I am reaching a personal and literal highlight during the ascent of the Mulhacén, the highest summit of the Iberian Peninsula, named after one of the last Muslim kings of Granada in the 15th century, who according to the legend was buried on this mountain.
On the summit of the Mulhacén (3478m).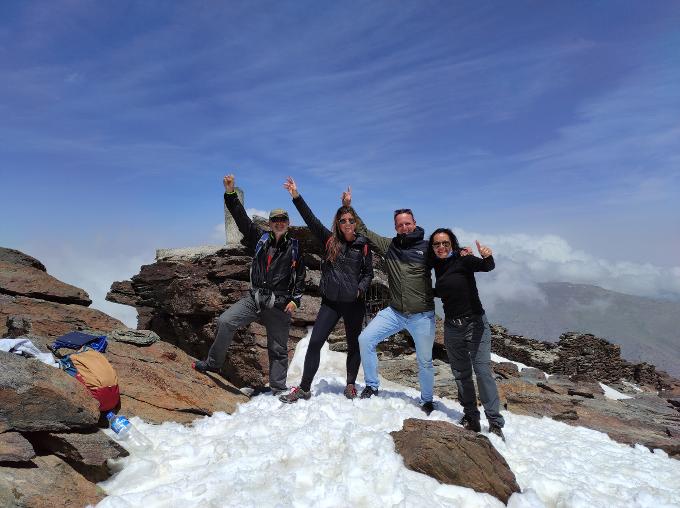 Along the way to the summit I am feeling my sister very close to me and I am experiencing gratefulness and inspiration by "meeting" Ron, Claudia and Chloë during this mountain ascent in the Sierra Nevada. I could not have expressed my own experience in a more appropriate way than Claudia did:
"Then the day has finally come to conquer the mountain Mulhacén: the highest mountain of mainland Spain with its 3478 meters. A hike of no less than 27 km's and with 1500 altimeters to ascend and descend. When meeting the people that are also joining on this trip led by our dear mountain guide Ron Fonville, I truly understand why it is the third time's a charm and previous efforts to take this beautiful walk have failed. I am grateful for meeting these beautiful people, with whom I had conversations with an openness that you would only expect among dear friends. It's fantastic to (re-)discover that the journey together is just as beautiful as the destination itself."
My neighbour and friend Teresa is handing over a present: a blank notebook in which to write down my notes for writing her memoirs. The most beautiful gift however is her message on the first page: "Para Reijer de Teresa. Nado es por nada. Todo es por algo." Everything happens for a reason. That reason causes change. Sometimes it hurts. Sometimes it's hard. But in the end it's all for the best. Although I sometimes find it hard to accept that everything happens for a reason, I am feeling grateful for meeting all the magnificent people that come across during our tours and trips and in everyday situations and that I am writing about in our stories. I will certainly get back to the tour to the Mulhacén in my future blogposts and I will pick it up at the point of the hilarious descent which turned into a stumbling back to base camp (the parking lot) just outside of the pueblo of Capileira in the Alpujarras.
Johan and I are now preparing for a weekend in which we will receive family and friends from the Netherlands in our properties Lolapaluza and Villa Merise. This is also a starting point for our business that we have been looking forward to so much!
Sunny greetings from the Valley of Happiness
Johan and Reijer